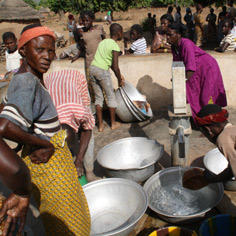 Humanitarian and Development
Place
Gaoua, Burkina Faso
Sponsor
Stéphane Guibert
Grant(s)
23 000 € to the Selection Committee at 2009/12/01
Project leader
Association de Jumelage Fontenay-le-Comte/Gaoua
"I intend to participate actively in this association's project, the culmination of a real investment of unpaid volunteers for the good of the population of the region of Gaoua. Thanks to my experience in the area of water and the investigations already completed on building techniques in Burkina Faso, I believe I can genuinely help this project in technical matters."

Stéphane Guibert
Since 1989, the two communes of Fontenay-le-Comte (in the Vendée region in France) and Gaoua (in Burkina Faso) have been cooperating in a twin city humanitarian project, having scored many achievements in the areas of health (cooperation between the two hospitals), education (construction of schools, classroom refurbishing) and economic development (microfinance).
The latest idea is to broaden access to drinking water for the population of Gaoua, an urban community consisting of a main township and 56 rural villages. The association that heads the arrangement is supplying 12 villages, in the first phase.
Training the population in maintaining and managing the installations
In each of them, a well will therefore be drilled starting in March 2010, in the dry season to make the work easier. At the same time, the project includes an aspect of "accompaniment in setting up the structures" which relies on the formation of a village management committee. There is in fact no question of building "turnkey" facilities without training the population in their maintenance or in procedures for managing the water supply. In a project of this type, these two factors are prerequisites for the permanence of the installations. Within this village committee, local officials, volunteers and artisans will therefore take the necessary training to be able to keep these supply points active and flourishing, in complete self-sufficiency.
The grant from the Veolia Foundation will be used to purchase pumps and to perform the indispensible water analyses. The first phase of the operations will benefit 10 000 persons. By 2015, the aim is to guarantee access to drinking water to 80% of villages of Gaoua. Many people are eagerly anticipating this result.