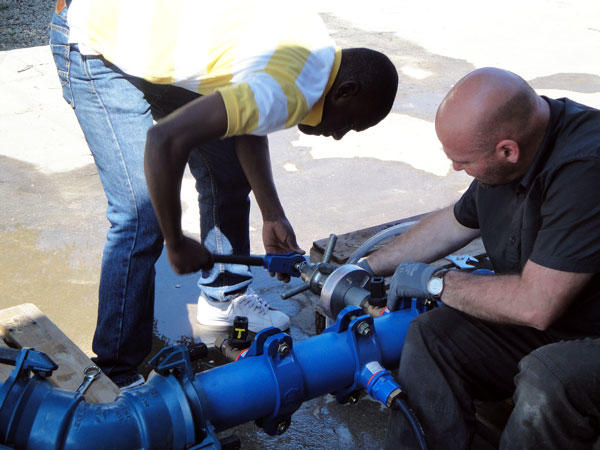 To live well, people need safe drinking water, food and energy.  They also need adequate hygiene and access to healthcare to protect their health.  The projects supported by the Foundation, its sponsors and Veoliaforce volunteers  are designed to satisfy these basic needs, particularly for vulnerable people. 
The Foundation :
provides emergency assistance in the wake of natural disasters and humanitarian crises, assesses the needs and ensures the population's access to water, sanitation, energy and waste management services.
supports development aid projects aimed at providing essential services closely related to Veolia's three core businesses – water, energy and waste.
Since water, energy and waste are the company's core businesses, the Veolia Foundation naturally works alongside other players to respond temporarily to these essential needs in emergency situations. It also contributes to building sustainable solutions in places lacking the necessary infrastructure with the goal of offering better conditions of hygiene and a better life to the most disadvantaged communities.  By way of example, the Foundation is engaged in long-term action in the Democratic Republic of Congo to sustainably reduce the incidence of cholera.
In the Democratic Republic of Congo, the re-emergence of cholera is a major public health problem, particularly in urban areas. Faced with this situation, a number of development players, including the Foundation, are implementing a concerted strategy to combat the spread of cholera.
An initial phase dedicated to epidemiological studies
Kalemie, first intervention zone
Rehabilitating and securing water networks in Uvira
Scientific monitoring of the program
An innovative combination of local and international players
The Global Alliance Against Cholera (GAAC)