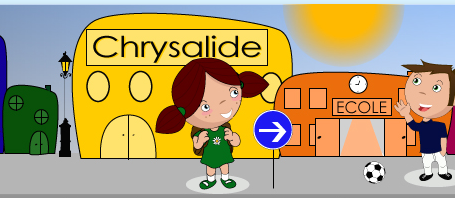 Social and Employment
Place
Biarritz, France
Sponsor
Daniel Teisseire
Grant
15 000 € to the Selection Committee at 2009/09/29
Project leader
Chrysalide
"My son has an autistic child who attends school with the help of an assistant and has made spectacular progress. Even though we ourselves are not involved in this new structure, I am well placed to appreciate the value of a project like the Chrysalide project."
Daniel Teisseire
To ensure the flourishing and socialization of mentally handicapped children, facilitate their access to sports activities, assist their school attendance to avoid adding "handicap to handicap": none of this is simple.
The nonprofit association Chrysalide was created 20 years ago to devise solutions to this situation, on the initiative of young parents. Since then, it has assisted the opening of several CLIS (school integration class) and many other family aid and support structures. In Biarritz, in the Paul Bert school, it will now be opening an AVA class for five autistic children aged three to twelve.
Target: all of the children in an "ordinary" class
In this classroom, the children will be stimulated all day long by various exercises following the "applied behavior analysis" method. Based on the steady presence of specialized educators, this behavioral approach fosters the acquisition of verbal capacities and reduces behavioral disorders. Ultimately, half of the children will be able to join the normal school curriculum.
Supported by Chrysalide, the AVA class of the Paul Bert school wants to score higher: thanks to the alternation between individual work time with specialized educators and progressive integration in a "normal" class, the aim is for all the children concerned to join normal classes alongside sound classmates, within two to three years.
To be effective, the project will generate six new jobs - a psychologist and five specialized educators. And thanks to the grant from the Veolia Environment Foundation, education, IT and audiovisual equipment will be purchased. This project has already been granted "experimental class" status by the French National Education Ministry. If the earlier results are positive, the capacity to accommodate autistic children will gradually be extended to the entire urban community.