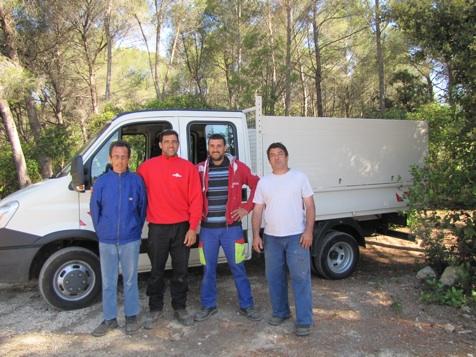 Social and Employment
Place
France
Sponsors
Claude Borel
Laurent Breissand
Grants
€20,000 to the Selection Committee at 2011/06/28
€10,000 to the Selection Committee at 2016/04/04
Project leader
Association Varoise pour l'Environnement et la Gestion de l'Aménagement (Vega)
"Many local districts and groupings of districts in the Var approach Vega, as Vega has managed to harness the support of top-class partners right from the outset. Vega works in rural settings where social exclusion is a complex issue: poor transport links, few job opportunities and vulnerable low-skilled groups are excluded." 

Claude Borel
The association varoise pour l'environnement et la gestion de l'aménagement (Vega for short) was founded in 1990. It runs back-to-work schemes in the Var department of France and helps people who are out of touch with the job market to move back into employment. Vega's back-to-work employees have the job title of natural, rural and forest area maintenance workers and these employees develop natural, rural and forest areas by undertaking the following tasks: clearing, felling, pruning, dry stone masonry (cutting and building without using mortar or binder) to renovate or create terraces, walls etc.
 
Support initiatives working for the common good
Vega developed the first back-to-work forest-based schemes in the Var in 1992 (fire prevention, developing and conserving the local environment). These support initiatives are in the public interest, as they protect and enhance the environment, while not being undertaken by local businesses.  Every year, over 60 men and women of all ages, from all socio-professional backgrounds and who claim RSA (supplementary welfare allowance), join the back-to-work schemes run by Vega. Supervised and trained to do forestry work by the ONF (France's National Forests Office), the employees carry out a social and vocational assessment with Vega and design their own back-to-work plan.
 
Two schemes kicked off in 2016. At Sanary-sur-Mer, the teams are laying out and enhancing the Jardin des Oliviers, the Cabanon des Vignes educational site, and the Roche Crurade garden. The employees are working on a discovery vegetable garden, creating a pathway and enhancing the local forest. In Luc-en-Provence, Vega is working on the Castellas site in the middle of the village, and in the area around St Joseph Chapel. Vega is also creating a French-style garden in front of the Château de Vintimille. Vega is continuing in this vein: a new programme was launched in July 2016 providing 24 back-to-work posts in the Provence Verdon grouping of local districts.
 
Training, an occupation and support
Back-to-work projects comprise two inseparable components: the job itself and social & vocational support. Subsidized employment contracts are used for the forest maintenance employee roles, with on-the-job training and technical supervision provided by the ONF on a day-to-day basis. This approach enables employees to learn about and become skilled in an occupation (forestry work in this case) and to be part of a team and be involved in the ensuing interaction with colleagues, trainers, supervisors, local council admin managers, politicians, visitors, hunters and walkers, among others, while getting used once again to having set hours, a schedule and working at a set rhythm.
 
The personalized social and vocational support provided by the scheme constitutes its added value. It enables scheme participants to deal with the issues encountered when endeavouring to access stable employment and undertake all the back-to-work formalities (galvanising themselves, choosing an occupation, developing a plan and seeing through the various stages). The core activity of forestry does not in any way limit participants' career plans and they can move into any sector of the economy (services, personal care, building industry, catering, to name but a few). This support encompasses all the aspects of everyday life which may stop someone from getting back to work and then staying in the job (housing, family, justice, health, debts etc).
 
Enhanced support
Bolstered by this prolific activity, the association wishes to enhance the social and vocational support offered by training its employees in IT. Working in partnership with the Toulon social centres and the Luc Cyber Base, the goal is to enable Vega staff to get to grips with the IT equipment they will need to use when looking for a job and for undertaking formalities etc.
 
There are plans in place for another training course on using hot machinery such as trimmers and chainsaws to ensure that minor incidents are more effectively managed and to improve beneficiaries' ability to work independently. Vega also intends to purchase equipment for its back-to-work schemes thanks to the Veolia Foundation's support.
 
"Inclusion, training and diversity are all core Veolia Group values. Using computers to access information networks is vital nowadays in order to stay in the loop and to successfully search for a job in particular. We are totally in tune with Vega on this project which further extends a vocational training initiative. Training to be a green space and forest maintenance worker is very important but job seekers can only 'sell themselves' if they remain in touch with the job market." 
Laurent Breissand