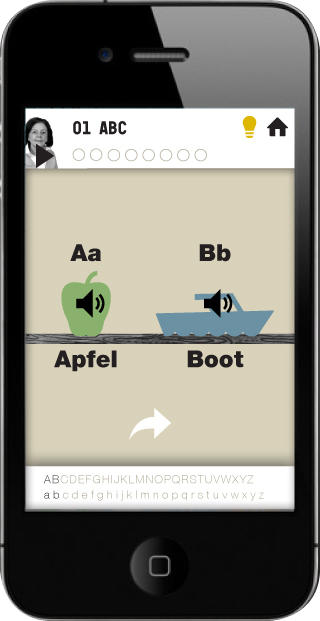 Social and Employment
Place
Germany
Sponsor
Justine Tavernier
Grant(s)
€8,000 to the Selection Committee at 2014/10/17
Project leader
"For me, illiteracy is a very important issue of society, which the digital fracture exacerbates. The application is a comprehensive solution in which the team of the nonprofit Kopf, Hand +Fuss GmbH is deeply invested."

Justine Tavernier
The nonprofit Kopf, Hand + Fuss GmbH (Head, Hand + Foot) was founded in 2010 to promote the social integration of handicapped persons and others in serious difficulty, by exploiting new technologies. The team has developed several applications for smartphones: a travel guide and a job application form for the deaf and hearing impaired.
Illiteracy concerns over 7 million people in Germany
With 7.5 million people concerned, illiteracy is a grave problem and a taboo in Germany. The nonprofit Kopf, Hand + Fuss GmbH wants to help illiterates to break out of their situation, which hinders access to the job market or confines them to very limited service jobs.
Hence the idea is to deploy an application for learning to read and write on smartphone, of which the content was designed by a teacher specializing in these issues. The exercises are rapid and can be done anywhere, making training easier. Its use respects anonymity and enables the users, who may be disturbed or ashamed of their situation, to train in private. Free of charge, it is useful for all German speakers in Germany, as well as Switzerland and Austria. The idea is to make the professional situation of the persons concerned evolve, but also to help them learn the use of digital technologies, which is also an asset for finding a job.
A project launched step by step
The application has nine levels, composed of 11 to 13 exercises, from learning the alphabet to drafting a letter. The first phase of producing this application demands large investments: the purchase of IT hardware and software and creation of the graphics. Once the first learning level is created, the nonprofit can seek other partners to finance the other developments of the application.
Learning to read and write on a smartphone
The Veolia Foundation was happy to kick start this exciting project, unique in Germany, which encourages the professional development of employees in the service sector by helping them reach out for jobs implying the ability to read and write.