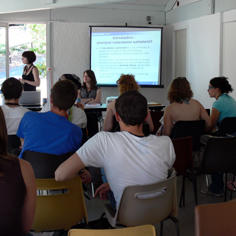 Social and Employment
Place
Universities of Strasbourg, Reims and Lille, France
Sponsor
Laurent Micaelli
Grant(s)
€5000 (2010 Student Solidarity Awards) to the Selection Committee at 2009/12/01
Project leader
"Anybody can end up on the street"

Laurent Micaelli
One of the principal activities of FAGE (Fédération des Associations Générales Étudiantes, created in 1989), is to promote the associative engagement of students and to dynamize associative life on school campuses. With a network of 2000 associations nationwide, FAGE is in charge of representing the students, particularly in the decision making bodies of academia. It organizes student life by preparing prevention, outreach and civic actions.
To contend with the growing impoverishment of the students, FAGE has decided to set up outreach groceries on the pilot university campuses of Strasbourg, Reims and Lille. Training workshops in inventory control and public reception will be set up, together with the publication of information and communication software for these volunteers.
The specification calls for the low-price sale of non-perishable foods, hygiene and cleaning products, and school supplies. The groceries will also offer additional services: interview with social assistants of CROUS, prevention and awareness raising in food hygiene, Internet access, eligibility or free use of leisure time activities.
A project that fits into a civic logic
The establishment of outreach groceries on the three pilot campuses sets an example because, beyond the service rendered, it enables all the students to have equal opportunity to succeed, by access to food and information without financial discrimination. To conduct its project, FAGE has solid institutional partners who provide financial backing, legitimacy and expertise: French Ministry of Higher Education and Research, High Commission for Youth, ANDES (National Association for the Development of Outreach Groceries), French Federation of Food Banks, CNOUS (National Centre of University Works).
The sponsor of the project, LAB&SDI manager at Veolia Water Solutions and Technologies, himself a former member of FAGE, provides his experience and his enthusiasm.
The grant awarded to this nonprofit by the jury of the 2010 "Student Solidarity Awards" will finance the training of the association managers, teaching software and the involvement of experts.
Launch of the Agora-é program
In 2010, FAGE launched the Agora-é program. It is not only an outreach grocery which is set up, but a real community centre. The space, located on the campus, allows students to have access to low-cost food but also to interact with other fellow students. Local information and counselling is also available through the University and the CROUS' social assistants present in the room. The Agora-é also provides assistance for school supplies and allows students to make photocopies at low-cost.
At the heart of the campus, FAGE, and its program Agora-é, is working hard to provide a living space for students to find support, information as well as career and life counselling.