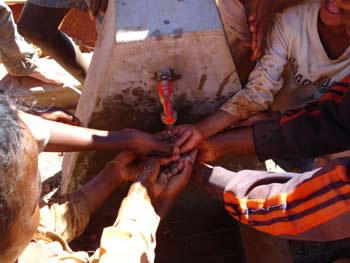 The Association Solidago was created following a project conducted in 2005 by two friends, students at the Special School for Public Works (ESTP) and the René Descartes Paris V Medical School: the construction of a maternity ward in the village of Marogoaika in Madagascar. Since then, it has completed many drinking water supply systems (AEP) and built three dispensaries with local firms and volunteers in various parts of Madagascar.
From building AEPs...
The project led by Solidago calls for installing an AEP system in two remote villages in the country which suffer from epidemics caused by poor quality water. It involves a gravity-fed water supply system over a distance of 2.5 km, composed of 8 standpipes, a reservoir, a catchment system and a filtration unit, serving a total of 900 inhabitants. Two teams of seven ESTP students are busy on this project: one at Ambohipeno, in the center of Madagascar and the other at Niabiana (350 km south of Tananarive).
... to health prevention...
Staffed by local health professionals, the Paris-Descartes medical students, alongside the construction of the AEPs, are launching campaigns for malaria prevention and hygiene education.
... and including the involvement of the population...
By gathering together French and Madagascan students from three different schools (doctors, chemical engineers, civil engineers), the project entrusts the building operations to a local firm after a call for bids. Everyone participates: students and local population, if they wish. This involvement is also consolidated by setting up local committees for management and population training, guaranteeing the longevity of the project.
... without forgetting the long-term tracking of the project's effectiveness
To confirm the smooth operation of the AEPs and to carry out water quality analyses, at team of five chemistry students from the Chimie ParisTech School of Chemistry is sent out to the field, once the AEPs are completed. Solidago also profits from its partnership with ParisTech to track the projects completed since its creation. This is done by three students: checking the proper working order of the dispensaries and drinking water supply systems, and the smooth takeover of the facilities by the population.
The sponsor of the project, Dominique Gatel, deputy technical director for drinking water in Veolia Water, places his experience of the service of the students of Solidago to advise them and to evaluate their work.
 
Drinking water in the four corners of Madagascar
Winner of the Student Solidarity Awards 2012
The grant awarded by the jury of the Student Solidarity Awards specifically helps to finance the construction of the AEPs.