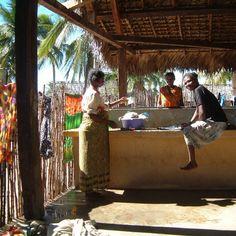 Social and Employment
Place
Madagascar
Sponsor
Aurélia Greff
Grant(s)
15,000 € to the Selection Committee at 2009/01/27
Project leader
« During a visit to Burkina Faso, I personally had the opportunity to meet the staff of the association Voûtes Nubiennes and to see their achievements. I was highly impressed by the technique and the quality of the training dispensed; the apprentices are fully capable of becoming skilled and self-sufficient masons when they finish their training. Economically speaking, the people of Burkina Faso often emphasized the low cost of this building technique, much lower than that of concrete and corrugated steel. Besides, the future inhabitants can participate in the construction of their own homes, for example by making the earth bricks themselves, and thus cut costs even more. As to the environment, we realised the benefits of the technique. Deforestation is a scourge in many parts of Burkina Faso, because the old traditional buildings use a large amount of wood, which has become increasingly scarce today. The vault technique uses no wood, earth is readily available, and its use does not harm the environment. The vaults also represent a real advance in terms of comfort, shelter from weather and changes in temperature. The project of Ecoles du Monde is outstanding and truly deserves our support. »

Aurélia Greff
The association Écoles du Monde, created in 1997 to fight the massive migrations of the populations of northern Madagascar to the slums of the island's cities, has developed various sorts of activities over the years, from education to vocational training, from support for arts and crafts to company formation.
Observing the various initiatives developed in Africa, it noted the work of the association Voûtes Nubiennes, which strives to restore the use of the Nubian vault building technique in the Sahel.
Écoles du Monde now wants to teach this technique to Madagascan masons, in order to help them save money and also contribute to the fight against the deforestation of the island. This technique, which uses bricks based on earth and water, is fine for building solid, inexpensive roofs, without the need for wood or steel frames.
When two associations join hands
Learning from the work of the association Voûtes Nubiennes, Écoles du Monde plans to carry out a pilot project, transposing the techniques of the Sahel and adapting them to the climate of Madagascar. The first structures will help train the Madagascan masons and will provide a reference for future construction sites.
To make this transfer of know-how successful, the association plans to invite trainers from Burkina Faso to Madagascar, and accommodate them there for five months. A brick press will also be imported and installed locally.
The project, initiated in 2009, will start with the construction of a surgery, a store for the bush villages and four homes for the families of the association's teachers who are already busy on the spot. If the technique turns out to be appropriate to the context of Madagascar, as the association anticipates, a training system will ultimately be launched: the aim is to train three new apprentices every two years in order to extend this type of structure throughout the big island.