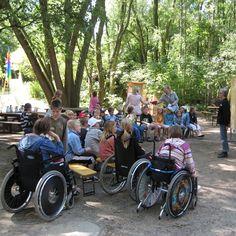 Environment and Biodiversity
Project leader
Verein zur Förderung der offenen Kinder und Jugendarbeit in Melverode e.V.
Place
Braunschweig, Germany
Sponsor
Andreas Hartmann
Grant(s)
20,000 € to the Selection Committee at 2006/10/03
"The organization's representatives have already, thanks to their enormous enthusiasm, created a wonderful place. It would be fantastic to make it accessible to disabled children. We know that these children already have too few opportunities for direct contact with nature."
Andreas Hartmann
The site, located near the commune of Braunschweig, is an absolutely extraordinary place, an adventure playground in the middle of the woods near the Oker river, managed and run by a non-profit organization "Verein zur Förderung der offenen Kinder und Jugendarbeit in Melverode".
The town's children and teenagers can use the playground whenever they like in the afternoons – it is reserved for parent-children groups and schools in the mornings – and enjoy interactive games run by volunteer youth workers, help take care of the 50 or so animals or attend nature conservation classes. The "wilderness" part of the garden has a play hut, a wild animal sanctuary, a boat in dry dock, a rock-climbing pyramid, a paddling pool and sandlot, a vegetable garden and a place for making campfires. A wonderful place to play!
A teepee and a boat
However, the organization was unhappy that this magical place does not cater for disabled children, especially since the town's hospital, located nearby, has a specialized orthopedic ward and would like to offer its young patients the opportunity to complete their rehabilitation outdoors. To remedy this injustice, more work needed to be carried out in the adventure playground.
The municipality is very supportive of the project and has already invested heavily to build a center for young people, whether or not disabled, that will soon house a workshop, games, toilets and showers. The new building and the old buildings have all been fitted with wheelchair ramps. The next step is to develop a network of paths suitable for wheelchairs and design adventure and discovery facilities suitable for disabled children and teenagers.
The fondation Veolia grant will finance construction of a wooden teepee allowing the children to make direct contact with the animals and a second boat fitted with access ramps and a safe deck - because every child is entitled to play at being an Indian or a pirate of the Caribbean!