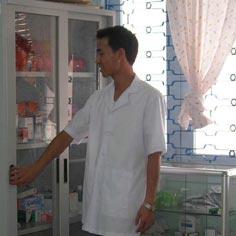 Social and Employment
Project leader
APER (Association pour les enfants des rizières)
Place
Vung Tau formerly Cap Saint-Jacques)., Vietnam
Sponsor
Christine Gervais, Veolia Eau
Grant(s)
25.000 € to the Selection Committee at 2006/07/04
Out of the 150 children in the center, nearly half remain there until financial independence. While the aid provided covers equipment and facilities, the program assigns considerable importance to training local players, which I consider essential for the permanence of the action taken."
Christine Gervais
South of Ho Chi Minh Ville, the town of Vung Tau lies along a landscape of rice paddies typical of this region of the Mekong Delta. The air is very hot and humid most of the year, causing many pathologies, particularly in the most vulnerable persons. These include the children. Many of them live alone without their families (abandoned, in the street, or wards of the court), and some are welcomed by the reception center for children of the town, which strives, with very few resources, to build them a future worthy of the name.
Since 2003, Aper, founded by French parents who have adopted or sponsored the children of the area, aid the town and its reception structure to improve the quality of life of the children.
Training of educators and first aid
In this framework, collections of clothing and teaching equipment, as well as health personnel training projects, have already been undertaken. In the new program, Aper now wants to rehabilitate the reception center, in order to eradicate the epidemics of pneumonopathies which cause many deaths every year among the most vulnerable individuals. The various aspects of this project include: training the personnel of the center in child care, the extension of a day nursery, equipment for the medicalization of the center, improvement in the water network and sanitary installations, the acquisition of a vehicle and a first aid kit to convey the children to the hospital and, finally, the acquisition of new medical equipment for the hospital (finger oximeters, neonatal tables, etc.).
Approached alongside other donors to help Aper complete these various projects, fondation Veolia decided to participate in the overall program by allocating 25 000 euros to help the town and its educators to eradicate the diseases that strike the children too often.
APER
Domain : Social et emploi
Country : Vietnam
Endowment : 28/06/2011
Enlarging the Social Home of Long Hai in Vietnam to accommodate abandoned infants and handicapped children who are victims of dioxin.