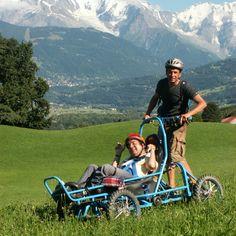 Social and Employment
Project leader
Place
France
Sponsor
Georges Berlet
Grant(s)
22,500 € to the Selection Committee at 2007/07/03
Giving everyone a chance to enjoy mountain sportsGeorges Berlet
Based in the Mont-Blanc Range, the Loisirs Assis Évasion Association has for 10 years been developing mountain nature activities for adults and children in a handicapped situation. After the ski tandem, backed by the Foundation in 2005, the association is branching out into the creation of all-terrain tandems for ramblers.
Downhill Bicycle after the Ski Schuss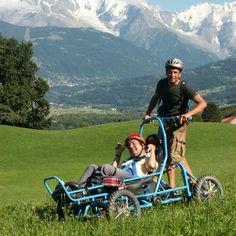 The design and production of all-terrain tandems adapted to various types of handicaps is not a simple matter. The aim is to do better than the available equipment, by developing a tandem controlled by a single companion and adaptable to animal traction. And also meeting the safety requirements and the need for the equipment to go aboard the mechanical lifts. A firm already specialized in this type of equipment concentrated on the design of the future tandems; actual production will be entrusted to another company, itself focused on the adaptation of leisure activities to handicapped persons. The coordination of this project will also mean a full -ime job in the Loisirs Assis Évasion Association. The costs of the technical studies will only be amortized when ten tandems are in production. And if this preliminary series is as popular as expected, other tandems can then be produced on a larger scale.
After having backed the ski tandems, the Veolia foundation is financing the design and construction of the all-terrain tandems, alongside GMF, the Caisse d'Epargne Savings Bank and the Syndicat intercommunal à vocations multiples (Sivom) of the Mont-Blanc region.