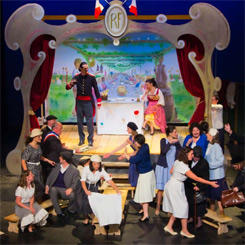 Social and Employment
Place
France
Sponsor
Dinah Louda
Grant(s)
€12,000 to the Selection Committee at 2011/10/20
Project leader
"This outreach project is deeply anchored in the local social fabric. The stage equipment offers the troupe the ability to bring their repertory to places which could not enjoy it without this support."

Dinah Louda
Founded in 1991 by Jean-François Gardeil, a famous baritone and stage director, Les Chants de Garonne is a singing troupe with the aim of teaching singing in the Middle Garonne District and creating and performing shows and songfests in Southwestern France. It offers an ideal field for workforce development for a large number of French singers and enjoys the backing of the Town Hall of Agen, the General Council of the Lot-et-Garonne, the Regional Council of Aquitaine, and the Regional Directorate of Cultural Action of Aquitaine, Banque Courtois, Atemax and the Carrefour hypermarket chain.
Opera performances accessible to all
Armed with its familiarity with the territory and the public, Les Chants de Garonne is launching an unprecedented operation in the region: the programming of opera performances with "prevented publics", defined by the physical, geographic or cultural difficulty in attending events of this type. This operation also consolidates an aspect that has become predominant in the activity of the company: professional integration for singers and for stage technicians.
In addition to the support provided by the local authorities, schools and academia, the Veolia Foundation is equipping the troupe with technical resources: stage (practicable doors and windows, stage carpeting, stairs, curtains and supports), lights (projectors and bases), screen for video projection of the sets... capable of enabling the performances "in situ", in places lacking stage devices and not originally intended to stage shows: schools, retirement homes, hospitals, etc.