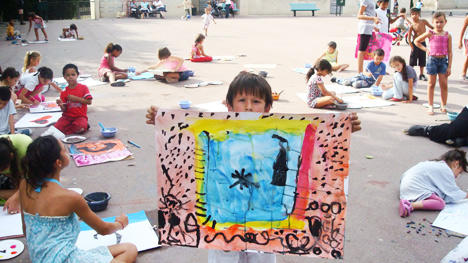 Social and Employment
Place
Marseille and Provence Alpes Cote d'Azur (PACA) region, France
Sponsor
Christian Donzel-Gargand
Grant(s)
€10,000 to the Selection Committee at 2012/12/19
Project leader
"I appreciate the approach, which is original: its mobility and responsiveness, and above all, its persistence.In sidelined neighborhoods, where nobody dare set foot, the children and their families only have to come down to the building entrance to feel welcome, and together recover and discover the wealth of a creative activity."

Christian Donzel-Gargand
In 1990, Loïc Chevrant-Breton took a hint from the street libraries of ATD-Quart Monde and his status as an artist from the School of Fine Arts in Marseille, to create the nonprofit Arts et Développement. His ideal: to foster meetings between two "cultures", the nonprofit movement dedicated to outreach and the art world. To do this, he conceived regular meetings between artists and the population (children, youths and parents) of the cities.
For nearly 20 years, the nonprofit Arts et Développement, alongside social teams, has thus designed and organized the installation of artists at the building entrances located in areas considered to be sensitive, and thereby contributed to social integration, education, creating a social bond and helping to change relations in the neighborhood.
The success of the project is above all conditioned by its method of approach to the public, its direct accessibility, its visibility in the neighborhood. In 2008, this original approach was dubbed "An artist, a neighborhood".
"An artist, a neighborhood", ambition PACA
The missions of the nonprofit are to go out to meet the public, to approach them where they live, encourage them to come down, discuss matters with the others, share, respect and, above all, "live together".
Similarly, the direct and regular presence of the artists in so-called "difficult" neighborhoods must be emphasized. The artists have an original mode of action, more open, entertaining, sometimes surprising, less institutionalized. However, alone in a neighborhood, the artist could have problems getting himself recognized.
The strong point of "an artist, a neighborhood" is based on a complementarity of skills via a two-person team with a leader or an educator of the neighborhood. The presence of this social worker facilitates the integration of the artist in the city, and enables him to adapt his proposals to the specificity of the public and the actual problems of the site.
Art in the cities
Today, the nonprofit wants to address new suburban districts in the PACA region and, for this purpose, the Foundation is helping it purchase the equipment (particle board panels and easels, brushes, tubes of gouache, etc.).