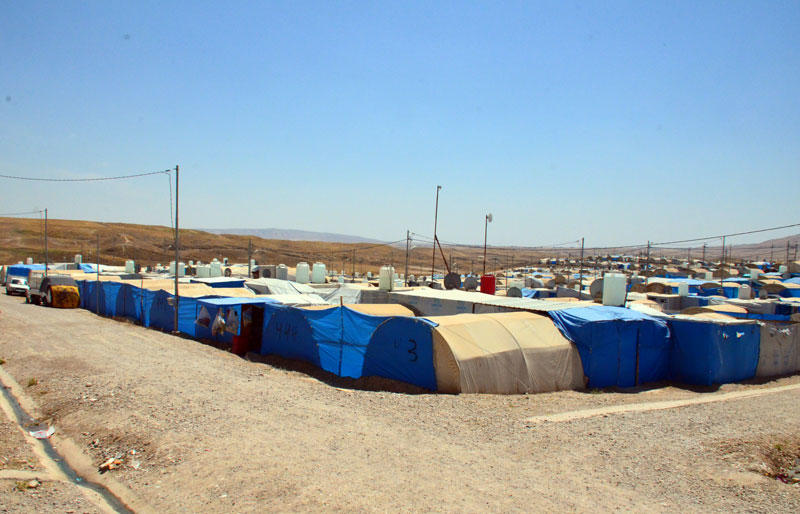 Humanitarian emergency
Location:
Bardarash Camp, Iraqi Kurdistan
Date:
June 2015
Assignment type:
Water
Technical diagnosis, operational support
"As you come in from Erbil, you come face to face with this startling sight: 3,000 tents placed on concrete slabs, the whole surrounded by barbed wire and protected by armed guards… "
At 38, David Poinard is a trained hydrogeologist. He joined the Veolia Group in 2001, and currently works at Veolia Eau as Technical Engineering Manager for Eau du Grand Lyon.
Located between Mosul and Erbil in Northern Iraq, the Bardarash Camp became operational in January 2015, and at the time of our assignment it hosted 9,000 people. Fleeing the nearby fighting, this population mostly comes from the Shabak community, an ethnic minority from the Nineveh province which is routinely persecuted by Daesh. Within a few weeks, 3,000 tents were set up on concrete slabs, with adjoining toilets.
 
In May 2015, the Crisis and Support Centre at the French Foreign Office (MAE) called on its private-sector partners to take part in the project to improve conditions at this Internally Displaced Persons' (IDP) camp. In keeping with the partnership agreement signed with the MAE on August 27th, 2014, the Foundation sent a Veoliaforce volunteer on site to take part in the needs assessment. David Poinard, who heads the Technical Engineering department at Eau du Grand Lyon, travelled to Bardarash in June. His assignment consists in assessing the drinking water situation, ranging from production at the boreholes to distribution towards the end taps. Accordingly, he has performed audits at the four boreholes and the eight storage facilities, as well as assessing the quality of the water and the distribution network carrying the water to the three taps available to each of the 3,000 tents.
 
The diagnosis delivered by the Veolia Foundation has helped the Première Urgence - Aide Médicale Internationale NGO (a contact in managing the camp) to launch a set of quick operations, including among others bypassing the health centre's tank to avoid water stagnation, establishing a protective buffer zone around the boreholes, setting up a water testing routine and more. Additional, more long-term measures were also mentioned; they will lead to improved and lasting access to water in the camp.
 
2.2 million displaced persons in Iraq
According to the United Nations, there are 5.2 million people in Iraq who are in need of humanitarian aid, and 2.2 million who were displaced within the country since 2014. In Iraqi Kurdistan, there are 23 camps hosting over 930,000 refugees and displaced persons. Starting in the summer of 2014, the Veolia Foundation got involved by sending 12.5 tonnes of equipment on site, which was handled on arrival by the French Red Cross. Shortly thereafter, several volunteers left to take part in assembling and installing the equipment delivered.