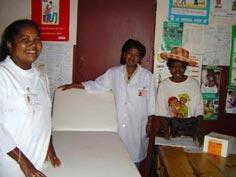 Humanitarian and Development
Place
Manandona, Madagascar
Sponsor
Jean-Claude Pennety
Grant(s)
10 000 € to the Selection Committee at 2007/05/22

  Project leader Anjou Madagascar
«  The technical validity of the project is undeniable. On the one hand, the high school students of La Baronnerie have already demonstrated their skills on similar projects. Besides, the relative simplicity of the installations is another guarantee of success. Not counting the motivation and depth of the commitment of the people involved! . »

Jean-Claude Pennety
Located about 200 km from the capital, Antananarivo, neither the school nor the medical dispensary of Manandona have electricity. This is a major problem, particularly for electricity, because 80% of the activity is devoted to births.
To help the local population, most of whom live below the poverty threshold, Anjou Madagascar has mobilized. This association, created in 2002, actually comprises three Anjou associations engaged in outreach projects on the island since more than a decade. To provide electric power to the school and the dispensary of Manandona, it has enlisted the help of the electrical engineering branch school of the La Baronnerie d'Angers (which the Foundation has already supported in similar projects in India and Mauritania).
Development project: from theory to practice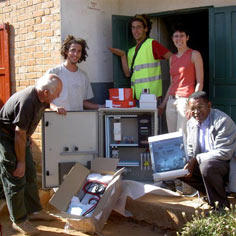 The principle is well oiled. The students complete the study with their teachers during the school year: Manandona will be supplied with electricity by a photovoltaic system. They then purchase the necessary equipment, locally if possible, and will complete the installation in the summer.
In the present case, a former electronics teacher of the school will supervise the operations and provide technical follow-up for the installation, and pay his own travel and accommodation expenses.
The key to the project is a genuine improvement in the teaching and medical care conditions for the inhabitants of Manandona. For example, the dispensary will be provided with a refrigerator to store the medicines and vaccines in optimal conditions.