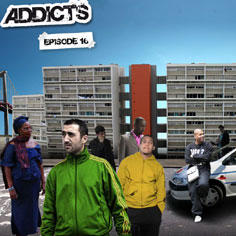 Social and Employment
Place
Bordeaux urban community, France
Sponsor
Bertrand Auneau
Grant
30 000 € to the Selection Committee at 2009/09/29
Project leader
K Prod
"A group of youths who all work hard, unpaid, with extraordinary enthusiasm, love for their neighborhood and total friendship."

Bertrand Auneau
Baccalan, Grand-Park and Aubiers are three districts where a large part of the disadvantaged populations of the northern Bordeaux urban community are concentrated. With an unemployment rate of 40% it's tough to find a solution to the boredom and often tense atmosphere in the towers, where the suicide rate is the highest in the region. For the past several weeks, a number of people have been betting that the answer possibly demanded the use of a camera, to pool the individual and collective knowhow and concentrate the energies available.
K Prod, an association that works in the audiovisual field, has already succeeded in creating jobs, involving the inhabitants of the districts and establishing a dialogue between the populations which "didn't mix" previously. In Bordeaux, it all began with a short film.Its broadcast triggered a genuine creative effort, marking the debut of a collective adventure.
And "Djamel and Zak" became a series
Karim Benasia, aged 18, wrote the screenplay: the story of two brothers who remained locked together despite their skirmishes with the law. The first subsidy from Arte, the arrival of Lydia Herbel, the producer, and the short film, gradually turned into a serial.
The producer taught the youths to write and produce, while enlisting the unpaid participation of professionals: lawyers, jurists, law officers, doctors, audiovisual technicians, actors....Besides, the entire population, regardless of age or police record, can participate.
Because each episode is based on real events and some of the folks portray their own adventures on the screen. All the episodes are shot in the three districts, which, although at some distance from one another, form a single set. The subsidy from the Veolia Foundation will be used to buy miscellaneous technical equipment, chiefly an editing machine. The first thirty episodes of the serial will be broadcast on Arte's web TV. Don't miss'em!