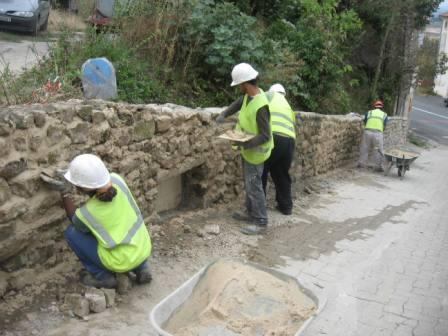 Social and Employment
Place
Castres and environs, France
Sponsor
Dominique Bousquet
Grant(s)
€20,000 to the Selection Committee at 2010/03/30
Project leader
Institut Environnement Tarn
"The CPIE guides us in missions to raise awareness of environmental conservation in primary schools of the communes of the Dadou and Pas des Bêtes water agencies. This project enables us to demonstrate our commitments to the environment and our determination to help people in difficulty rejoin mainstream society."

Dominique Bousquet
Institut Environnement Tarn, which has the CPIE label (Permanent Center of Initiative for the Environment), proposes back-to-work jobs by developing activities to preserve the natural heritage. In Castres and its environs, its teams maintain rambling trails, riverbanks, gardens and open spaces, etc. They can also take charge of restoring small buildings belonging to the local architectural heritage. The nonprofit thus performs a dual function: it remobilizes people who are outside mainstream society in work projects which are well staffed; and it participates in enhancing the territory, mainly in terms of the environment.
Over forty back-to-work recruits already
In 2009, Institut Environnement Tarn succeeded in recruiting 41 people on back-to-work contracts, two-thirds of them subsistence wage earners. Divided into teams of nine and supervised by a technical manager, they worked for communities of communes or urban communities. The nonprofit continues its prospecting today in order to inaugurate new projects and recruit more people.
Approached to help the CPIE to buy new equipment, the Veolia Foundation answered in the affirmative. Because the type of professional activity proposed is an excellent springboard to help people in difficulty return to the working world. Renewed socialization, acquisition of skills, understanding the demands of production and quality of results: the targets set by Institut Environnement Tarn for its employees already enable it to post impressive results. At the end of their contracts, 40% of the people concerned find a job or skills training, and 30% are redirected to another back-to-work system.