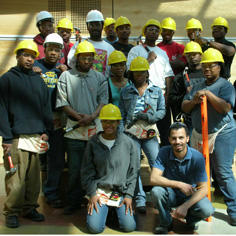 Social and Employment
Place
Chicago, United States
Sponsor
Marguerite Ulrich
Grant(s)
22 000 euro to the Selection Committee at 2009/12/01
Project leader
"I heard about OAI for the first time from my recruitment manager, who had attended in a'job fair' in April 2009 for graduates of a training program in hazardous waste management. Since then, I've learned a lot about this training and workforce development agency ... its training and education programs encourage economic self-sufficiency, create lasting social partnerships, defend the rights and the conservation of the environment, and help re energize social bonds."

Marguerite Ulrich
In the United States, OAI - a nonprofit education, training and workforce development agency - has been assisting thousands of persons for the last 32 years, employees, jobseekers and underemployed professionals, who need to acquire further professional skills and to learn about hygiene and safety at the workplace.
At the latest school reopening, it launched "Southland YouthBuild", a new support program dedicated to young persons in social and professional difficulty living in the disadvantaged neighborhoods in the southern part of the city. The youths, aged 18 to 24, will be able to catch up on their schooling and learn professional skills in bau-biology for low-income families. This comprehensive training program also addresses the issues of the development of human skills, such as leadership, civic behavior at the workplace, and action for sustainable development.
Youths who turn into "eco-responsible" and independent adults
For two years, the 66 trainees will learn the trades of environmental remediation, construction and landscaping. Based on the experience of recent years, OAI makes sure that at the end of the course, 70% of them will be sent on to skills training or to a proper job.
The project has largely been funded by the US Department of Labor, which regularly supports the association. However, a number of operating needs could not be covered: the Veolia Foundation has therefore taken charge of purchasing a fifteen-place minibus to transport the young trainees to the various worksites. The grant will help the teams to be fully prepared for their tasks.