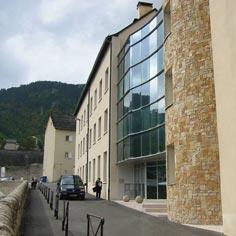 Social and Employment
Project leader
Les amis de la Providence.
Place
Mende, Lozère, France
Sponsor
Christophe Mourgues
Grant(s)
30,000 euro to the Selection Committee at 2006/10/03
"Protecting the children from the risks of violence is a good thing. But it isn't enough. They also need to be accommodated in satisfactory conditions. A playground, games, a little garden, all provide means for soothing the hearts of these children who have suffered terribly."
Christophe Mourgues
According the November 2005 report of the Odas (National Observatory for Decentralized Social Action), there are approximately 18 500 ill-treated children in France today. This must be added to another 76 000, considered as living in a "risk situation". These worrisome figures provide an idea of the accommodation needs in this field.
Among the many associations that have been created to meet this demand, Les Amis de la Providence welcomes children in difficulty since 1937, in two establishments. One of them, the institution Notre-Dame-de-la-Providence, located at Mende, in the Lozère district, receives youngsters and youths who are administrative or court wards. It comprises a house for social functions, sheltering the 6-18 year bracket, and a kindergarten for children up to six years of age. A mother-child welcome service completes this unit.
The right to play
Parents in great insecurity, rape, alcoholism, battering… the children welcomed and victims of this situation benefit from child psychological aid which they need desperately. Yet, they also need a pleasant living environment and the opportunity for fun.
As it happens, the courtyard of the institution is no longer usable. Les amis de la Providence therefore want to rearrange the courtyard of the establishment, to build a small playground and an area where the little ones can play outdoors when it rains, as well as a garden with plant soil to encourage them to observe nature. The fondation Veolia grant will naturally help to complete this project, but above all, it will help these children, already sorely tried by everyday experiences, to reconstruct their life… as children.