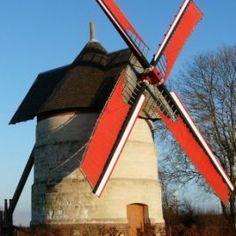 Environment and Biodiversity
Place
Eaucourt-sur-Somme, France
Sponsor
Lionel Turpin
Grant
20,000 € to the Selection Committee at 2009/01/27
Project leader
Musée éolien d'Eaucourt
« This Wind Museum, associated with the windmill and the wind farm, also fits in with a desire to promote the use of renewable energies. The use of the miller's house as a restaurant and hotel, as well as the seminars and the museum, will also help to make the project financially sound and to create jobs in a rural environment. »
Lionel Turpin
The village of Eaucourt-sur-Somme has 450 inhabitants and sees big. From an idea developed by a few village enthusiasts, the old windmill standing on the hill was restored in 2004, based on reproductions owned by the villagers.
To continue and extend the project, a "Miller's house" is being built, with aid from Europe, from the region and from the district. It will not be accommodating a miller, however, but rather a wind museum that will exhibit the techniques of the use of natural energies, of yesterday, today and tomorrow. Located not far from a wind farm, the project will promote renewable energies. It will be able to accommodate seminars, thanks to the arrangement of work and screening rooms, and the installation of a restaurant.
An educational tool about the world's windmills
Work on the Miller's house has already begun and will be completed in March, so that the site can be inaugurated in September 2009. It will present exhibitions on the windmills of France and of the rest of the world.
An educational project, the final aspect of this endeavour, is being drawn up with the old boys' association of the village school, which includes several teachers - thus offering a guarantee of a clear and well constructed pedagogical approach. The visiting children will discover the history of windmills, the various renewable energies available, the knowledge of their ancestors concerning the harnessing of the wind, the role of windmills in food (production of bread) and the various wind measurement and observation systems.