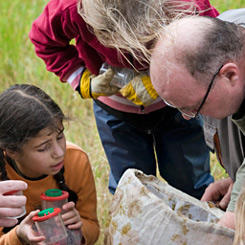 Environment and Biodiversity
Place
Hevensen, Lower Saxony, Germany
Sponsor
Werner Böhme
Grant(s)
€6,500 to the Selection Committee at 2011/06/28
Project leader
"I am convinced that with the Foundation's support, the program of the Children's Farm will become even richer and more attractive.I'm more than happy to sponsor the project."

Werner Böhme
Created in 2002, the Children's Farm of Hevensen, a village of lower Saxony, welcomes about 3,000 children, adolescents as well as adults, every year.In addition to discovery programs on sustainable development via agriculture, food and the environment, dedicated to the children and adolescents, the Farm also offers older visitors professional courses, seminars and civil military service.In 2005, the Farm became a vocational training center, the number of visitors has grown steadily, and the recorded satisfaction rate of 98% proves the outstanding work of the Farm's teams.And besides, singled out by UNESCO in connection with the United Nations Decade for Education in Sustainable Development, the Farm has also recently become accessible to handicapped persons.
98% satisfaction
Still on the lookout for new initiatives, new methods for education in sustainable development, the Farm has conceived a mobile research station, roaming over a radius of 15 km, for 7 to 14 year old children.On board this "mobile research station", the fledgling explorers can set off to discover the local biodiversity, by day and by night, for a closer understanding of their environment.The aim is to enable the children to analyze, develop and propose solutions by themselves, so that in the future, they will become adults aware of man's impact on nature and respectful of their environment.Today, to get the project going, only one thing is still lacking, the caravan (mobile research station)...
The Veolia Foundation in participating in the project by co-financing the purchase of the caravan.