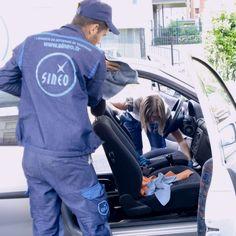 Social and Employment
Place
Aubervilliers, France
Sponsor
Suzanne Lawson
Grant(s)
30,000 € to the Selection Committee at 2008/12/02
Project leader
Sineo / Ares
« I've been familiar with Ares since their "open house" in July 2008. Shortly thereafter, I went to meet two teams who were cleaning cars by the process designed by Sineo in the premises of the Compagnie des Eaux de Paris.
This helped me to see how seriously the work was done: a technical coordinator was on the spot and one of the association's managers told me that the Ares employees go through all the departments created by the association to gain multifaceted training. I see this as a highly positive approach. »

Suzanne Lawson
Every day, thousands of service stations and other carwash specialists discharge tens of thousands of cubic meters of wastewater. An even if many of them are concerned today with the specific treatment to be applied to this wastewater, this nonetheless means that impressive quantities of water are used to clean our cars.
Sineo, founded in 2004, has designed an alternative to this ecological wastage.
It has developed a carwash process without water, by hand, with 100% recyclable products.
On the other hand, the Ares association - which the Veolia Foundation has already aided for the quality of its activities - proposes jobs to a public on the sidelines, suffering from a combination of social and professional difficulties.
The two structures decided to join hands in July 2008 to develop a new activity within Ares Services - the not-for-profit company formed by Ares.
Twenty new jobs
The new water-free hand carwash activity of Ares Services will help to reach a new public that the company had difficulty attracting. The youths without professional skills are in fact excited by the environmental dimension of this activity, and at the same time, satisfied to work on cars, in teams, with high quality and productivity requirements. Besides, water-free cleaning offers the additional feature of being done where the client is located: an additional asset combined with many professional meetings.
Based on the installations of Ares Services in Ile-de-France (Tremblay-en-France, Paris and Boissy-Saint-Léger), the new activity will be able to spread easily and rapidly throughout the territory lying between Paris, Seine-Saint-Denis, Val-de-Marne, Hauts-de-Seine and the north of the Essonne district. Right away, Ares Services plans to create at least 20 jobs thanks to this new activity.
Faced with the various challenges of this new development, the Veolia foundation has decided to make another grant to Ares, with the aim of participating in the purchase of a number of necessary facilities: cleaning equipment, work and protective clothing, products for initial demonstrations, a utility vehicle to transport the teams to wherever they have to do their job.