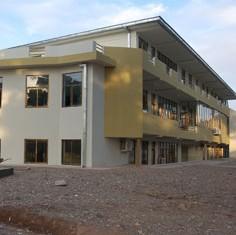 Humanitarian and Development
Place
Hérat, Afghanistan
Sponsor
Jean-Claude Chastant, Stérience, Veolia Energie
Grant(s)
194,000 € to the Board of Administration at 2007/06/19
Project leader
In 2003, 750 serious burn victims were hospitalized in the hospital of Hérat, the large city in western Afghanistan located not far from the Iranian border. Two-thirds of them were women, mostly between 10 and 40 years of age. And out of these 500 women, 350 had attempted suicide by setting themselves on fire to elude a marriage forced upon them by their families. This figure is unfortunately rising: the hospital estimates that two women per day currently resort to this ultimate sacrifice in the region.
Emergency Care for Severe Burn Victims
To admit these persons rapidly and efficiently, the NGO HumaniTerra, specialized in surgical aid (therapeutic, logistic and training) aimed at the poorest countries, has undertaken to build a center dedicated to severe burn victims within the perimeter of the general hospital of the city.
The aim is both to provide it with the means to receive and treat the burn victims in emergency situations, to deal with the aftereffects, to dispense reeducation, to propose ergotherapy, and to promote prevention. HumaniTerra also plans a training aspect to give the Afghan medical teams the means to handle these situations themselves.
Grants and Skills for the Sterilization and Laundry Unit
Inaugurated inoctober 2007, the center for severe burn victims designed by HumaniTerra is able to admit more than 700 patients every year and performs a dozen operations daily thanks to its two operating theaters. Its 3 000 ft2floor area are spread over three floors, and include, in addition to an intensive care unit and an admission 24h/24h to emergencies, a special psychosocial care.
To finance the overall building, US and European funds are raised. The subsidy granted by the Veolia Foundation finances the entire sterilization unit, and the laundry unit of the center - a crucially important step in the treatment of severe burn victims. At the same time, Stérience, a subsidiary of Veolia Energy specialized in sterilization services proposed to hospitals, provids skills to help HumaniTerra acquire a sterilization unit meeting European standards (drafting of the specification, supply and installation of equipment, optimization of water consumption, etc.).
---
OTHER PROJECT SUPPORTED
Construction of a national center for reparative surgery and for third degree burns at the Preah Kossamak Hospital.
Domain: Social and employment
Country: Cambodia
Endowment: 2010/06/22
Learn more about this project