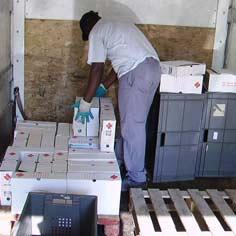 Social and Employment
Place
France
Sponsor
Olivier Ducatez
Grant(s)
15,000 euro to the Selection Committee at 2006/07/04

  Project leader Qualirec 38
«  There is genuine demand for this type of service. We have already made some serious commercial progress in setting up contracts with a number of social housing organizations. The Opac and SDH agencies in Isère are interested in this type of service.  »

Olivier Ducatez
Whenever people have to move, the same old questions crop up: why have they collected so many unnecessary objects and what can they do with them? Not to mention the various items of furniture or household appliances that they won't be able to use in their new place. There may be no conveniently sited waste drop-off center and not everyone has a vehicle suitable for transporting these disparate objects.
Qualirec 38, a subsidized employment company in the Isère département, has decided to offer this service to private individuals and businesses. Until now it has specialized in treatment of industrial waste, more particularly used food oils, but it hopes that this new activity will allow it to find jobs for more people.
Priority to recycling
Qualirec 38 plans to collect and dispose of bulky objects, with priority being given to recycling, a method that it has already adopted in the industrial sector – it works regularly with Veolia Services to recover and recycle materials such as polystyrene. Qualirec 38 has therefore started prospecting for business with various social housing organizations, with which it hopes to sign some initial contracts.
The company asked for a helping hand to launch this project, aimed at financing a vehicle for the new activity. As soon as the project is up and running, the company will recruit its first drivers and handlers – other jobs will follow depending on demand.