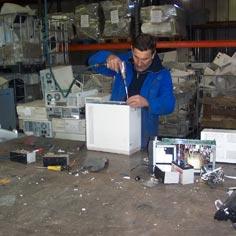 Social and Employment
Place
France, Aix-en-Provence, France
Sponsor
Olivier de Montbel
Grant(s)
22,900 € to the Selection Committee at 2004/11/30
Project leader
Micro'Orange
Old computers never die, they just open up new markets. Since 1998, Micro'Orange, located near Aix-en-Provence, took an original take on the information era by focusing on the collecting, converting and reselling used computer equipment at modest prices. To perform this work, the company trains and employs individuals from difficult social and professional situations with integration contracts. The end goal is to give them the means to find lasting employment. With the help of Onyx, it recently opened a centre for disassembling and sorting computer and office equipment as well as audiovisual equipment collected in the region.
Taking off to reach new heights
Micro'Orange employs fourteen people in its centre, three of whom are supervisors, as well as twelve people who repair and sell computers in its workshop boutiques. It just opened a third used computer boutique in the northern districts of Marseille and is working on collection activities directly with EDF GDF and France Télécom.
In August 2005, the application of a new directive related to manufacturer-funded collection, treatment, and conversion of computer material should give an extra boost to this business. Micro'Orange plans to hire ten or more additional employees over the next two years. However, one of the concrete conditions to accepting this growth is the purchase of a collection vehicle equipped with a lift gate, which would make equipment loading easier, transport faster and foster better recycling conditions. The Veolia foundation has decided to give Micro'Orange the means to make this purchase through a 22,900 euro grant.