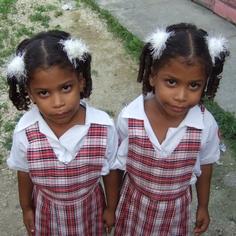 Social and Employment
Project leader
Place
Cali and Bogotá, Colombia
Sponsor
Manuel Vicente Barrera
Grant(s)
35,000 euro to the Selection Committee at 2006/12/05
"This is an interesting and extremely useful project, because it concerns particularly disadvantaged children."
Manuel Vicente Barrera
In Colombia, where many families live in the most extreme destitution, thousands of children are dumped into the streets, forced to survive alone.
Among those who come to help them, the Swiss foundation Aide aux Enfants, created by a Swiss medicine teacher in 1985, has the vocation of gathering small abandoned children or orphans, from their birth up to the age of five years, in its Bambi homes.
During their stay, the association works simultaneously so that the children can return to live with their families or to be adopted. Aide aux Enfants has founded eight Bambi homes in the main cities of Colombia: Bogotá, Cali, Medellín and Darién Valle.
Training the Parents
On the whole, the Bambi homes accommodate and raise about 4000 children per year. Professionals of early childhood (social assistants, doctors, maternal assistants), provide all the necessary care for their happy growth: food and education, medical and psychological observation, and then, simply, human warmth and tenderness. Some children stay for several years in their Bambi home, others only spend a few weeks, the time to recover their health.
Wishing to develop new solutions for this extreme poverty, Aide aux Enfants set up a vocational training program in 2000, Promefa, for the parents and children. These often include single mothers unable to provide for their children. In 2005, Promefa trained 150 adults in small businesses: 70 of them earned a diploma and 50 later found a job.
Today, Aide aux Enfants has turned to a number of major players in international outreach: necessary and effective, its Bambi homes are nonetheless beginning to feel the weight of their age (twenty years of service for the oldest) and demand substantial refurbishing. The grant from fondation Veolia will help them purchase new household equipment for the two homes in Bogotá and a minibus to transport the parents and children in Cali.