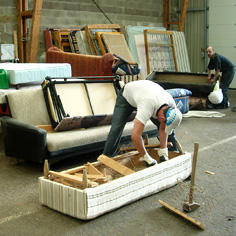 Social and Employment
Place
Colmar, France
Sponsor
Gilles Tondu
Grant(s)
€30,000 to the Selection Committee at 2010/03/30
Project leader
"The people who truly need our solidarity aren't just simply living in far away countries. They are right here, under our noses. For many of them, returning to work is a big problem. This project therefore contains powerful human challenges. With my long experience as an operations manager, I can bring Espoir my knowledge and skills in work organization and safety."

Gilles Tondu
Job creation plus environmental conservation: ideal partners indeed. Many nonprofit organizations have realized this, like Espoir, installed in Colmar, in the Haut-Rhin district. Founded in 1973 by Pastor Rodenstein alongside a team of volunteers, it started out by welcoming people who were completely destitute, offering them a roof and a hot meal. It gradually broadened its range of action, to contend with the increasing distress it encountered in the area.
Espoir has 1,800 members today, including 200 active volunteers, and runs hostels (in Colmar and Vogelsheim), a living area arranged in a farm near Ribeauvillé, workshops, sales rooms in Colmar, and an outreach boutique. But the nonprofit wants to do more than just accommodate the needy. It wants to find them jobs, income, and means to become self sufficient.
Creating 10 new back-to-work jobs
For the last fifteen years, Espoir has therefore developed the processing and dismantling of large bulky household waste. Mattresses, box springs, settees and other chairs are handled by its ten employees under back-to-work contracts. The metal and wood components (half of the materials collected) leave the workshop for recycling and re-use as secondary raw materials. The other materials (47%) are upgraded to produce energy, and only the remaining 3% is sent to technical landfills. So far, 750 tons have been processed this way every year.
The nonprofit now wants to do more. Its aim is twofold: to create more back-to-work jobs and generalize the ecological dismantling of large bulky household waste throughout the Haut Rhin, working alongside the intercommunal structures of the district.
In order to buy, fit out and equip a new 2,000 square meter facility, it has applied accordingly to several parties, including the Veolia Foundation. The Foundation decided to support Espoir for the environmental impact of the project and its highly positive effects in helping people in serious social and economic difficulty return to a working life.