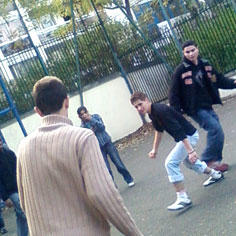 Social and Employment
Place
Montreuil, France
Sponsor
Anca Strachinaru
Grant(s)
25 000 € to the Selection Committee at 2010/01/26
Project leader
"One has the feeling that one has succeeded in doing something to effect a small change in the destiny of these children."

Anca Strachinaru
In Ile-de-France, many of us have picked up the habit, powerless, of rubbing shoulders with these very young adolescents, sometimes actually children, who beg near the shops, sleep and eat in metro corridors or in the porches of buildings.
Mainly coming from countries that recently joined the European Union (Bulgaria, Romania), one never knows whether they are completely isolated or whether they can still count on close relations. In any case, it's clear that they live in difficult, even dangerous situations.
The nonprofit association Hors la Rue has been working alongside them since 1996, from a welcome center in the 13th district of Paris. It identifies the minors wherever they are, uses all possible expedients to entice them into a trustful relation to protect them and guide them toward activities more suited to their age. It works in partnership with the Children's Court, the Educational Service at the Court, Children's Social Aid and the Minors' Brigade.
Helping the young persons build a life ... like the others of their age
In 2007, Hors la Rue monitored 123 minors in this way. In 2008: 152.
It has now observed a steady increase in the number of young persons needing its services. The association therefore plans to inaugurate a larger day welcome center, in Montreuil, in Seine-Saint Denis, in order to meet this growing demand.
The young persons can take French courses there, have an assessment of their state of health, and be accompanied toward medical consultations, enjoy a warm meal and participate in the various leisure activities. And above all, they will benefit from the attention of specialized educators who will try to guide them towards an educational project, if possible to help them restore their bonds with their families and, in short, to do everything possible to take them out of the street "system".
Faced with the urgency of these already very difficult life trajectories, the Veolia Foundation has decided to help Hors la Rue furnish and equip the new welcome center in Montreuil. A waiting room will be created for the families, a library nook will help them settle in calm surroundings, and a computer space will be provided for professional integration of the oldest. This new venue will also enable Hors la Rue to create another two educator jobs.