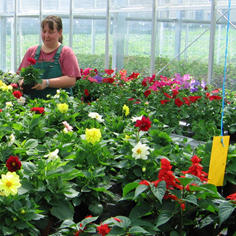 Social and Employment
Place
Geithain, Germany
Sponsor
Wolfram Scholl
Grant(s)
10,000 € to the Selection Committee at 2006/01/31
  Project leader Red Cross
«  The Red Cross has a proven track record in identifying activities liable to create employment for people with disabilities. Gardening has significant potential for development in the region. There will definitely be clients for this service. »

Wolfram Scholl
In the Geithain region, the local Red Cross has for many years made considerable effort to find employment for people with disabilities. It established a specialist workshop in this area which provides more than 250 jobs in sectors as varied as carpentry, iron works, printing and administration. Today, given the marked slowdown in the region's economic activity, the workshop must compete with the significant rise in job seekers: in this difficult context, companies accepting to employ people with disabilities directly are increasingly few and far between.
Fruit, vegetables… and six new jobs
To meet the growing demand, the association has extended its capacity by building an additional building, then, together with its workshop, it looked at launching a new economic activity. Taking advantage of a new glasshouse, and thanks to the provision of a site by the Geithain Parish, it decided to develop its gardening activity created in summer 2005 at the request of people suffering mental disabilities.
In the coming months, the 7,800-square meter site will be put to good use and strawberries, onions, cucumbers, green beans, pumpkins and herbs will start to sprout. Much of the produce will be consumed in the Red Cross's own centers, but they will also be sold in the association's store which is well-known in the region. The first year's sales could be as high as 5,000 euros, but more importantly, six new jobs for people with disabilities will be created, with the possibility of bolting on gardening services for private and institutional clients in the years ahead.
The 7,000 euros granted by the Veolia foundation to help develop this activity will be used to erect a fence around the garden, plant firs for its protection, buy gardening tools and a tent for their storage.