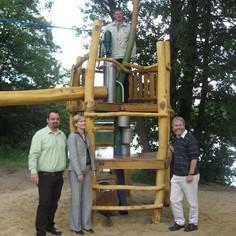 Environment and Biodiversity
Place
Braunschweig region, Germany
Sponsor
Thomas Lampe
Grant(s)
17 000 € to the Selection Committee at 2010/01/26
Project leader
Aktion Fischotterschutz e.V.
"The river otter protection center is a reference today in the Land of Lower Saxony - and even beyond - in the areas of environmental education for young persons and counsel given to hunters and farmers to conserve the biodiversity.
Since I live just 10km away, I know it well.I would be delighted to use my personal contacts to offer my services as an expert for the events that they organize: I could even use my educational trunk."

Thomas Lampe
20 000 members and sponsors, 50 employees who work in the area of research and environmental education: in Lower Saxony, Aktion Fischotterschutz e.V. is the world's largest organization dedicated to the protection of the river otter. It manages an area of 60 000 m2 at the edge of a lake, where nine animal enclosures (built to respect the natural habitats) help discover otters, badgers, martens, ermines and polecats.
A nearby center accommodates the researchers, as well as a large public - 100 000 visitors per year, including 400 school classes - for seminars, guided tours and holiday activities. To supplement its nature discovery activities and to inculcate respect for the local biodiversity, the association has launched two new projects: the construction of a beaver house and an educational water treatment station, where the visitors can themselves test the ecological principles of water filtration.
Discovering ecological filtration processes
In the beaver house, the water can be pumped, allowed to flow or stopped, sent through pipes or through the vanes of a watermill ... in short: to understand how to use it in full respect of surrounding nature. Inside the filter station, the visitors can run the ecological filtration process themselves, using a hand pump. Cloth, sand and active charcoal will be visible to clearly demonstrate their role as natural filters.
The Veolia Foundation is joining these two projects by financing part of the new installations. The lake will shortly perform a dual function for the public: as a reserve for saving fascinating animals, and as a center for raising awareness of the conservation of good quality water.