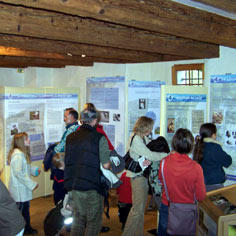 Environment and Biodiversity
Project leader
Centre de la nature montagnarde (CNM)
Place
Haute-Savoie, France
Sponsor
Olivier Roquet
Grant(s)
25 000 € to the Selection Committee at 2006/10/03
"The grant made by the fondation Veolia will help create an additional local job. It is part of an interesting debate (man and the mountain) in which water is one of the major stakes."
Olivier Roquet
CNM is housed in the Château des Rubins, at the entrance to a natural combe close to the center of Sallanches. It displays educational collections over five floors around the themes of geology, mineralogy and mountain flora and fauna. It also organizes numerous initiatives to raise awareness of environmental conservation, particularly in schools. Since its creation, no fewer than 500,000 people have come into contact with these initiatives. Every year, some 17,000 schoolchildren visit the exhibitions and take part in educational programs. Over the years, it has developed much-admired expertise in environmental education and has become a major center of scientific resources concerning the mountain environment.
However, today, both the premises and the exhibitions need to be rejuvenated. The municipality of Sallanches, owner of the château, decided to carry out work to enhance visitor comfort. In parallel with the renovation work, CNM is also keen to add a new dimension to its work: raising awareness of the challenges of sustainable development.
Sustainable development: a new goal
To practice the values that it preaches, CNM first drew up and adopted its own sustainable development charter. Over a total exhibition area of 600 m2, it will offer visitors a global vision of the challenges facing mountain regions at the dawn of the 21st century: water resources, economic development, climate change, biodiversity, the return of the great predators and heritage preservation. Each room, inaugurated as the renovation work proceeds, will illustrate one of these themes. A wide range of educational tools will be used, coupled with an interactive approach involving the public: conferences-debates, educational programs and films, etc.
The project is aimed at all the people associated with the mountain, whatever their status and responsibility - tourists, local inhabitants, young people, seniors, elected representatives or environmental professionals. They will all soon be invited to the renovated Château des Rubins to reflect around the big ecological challenges facing one of the most beautiful – and most vulnerable – regions in Europe!