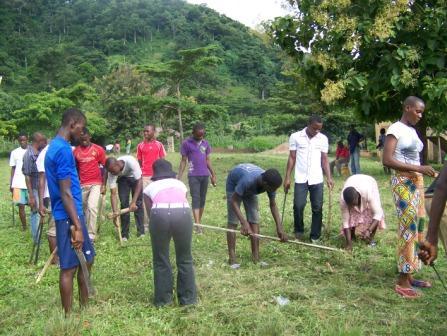 Humanitarian and Development
Place
Fiokpo Canton, Togo
Sponsor
Iyad Hallaq
Grant(s)
€25,000 to the Selection Committee at 2011/10/20 €10,000 to the Selection Committee at 2014/05/23
Project leader
"It was during a Voeliaforce training session, in May 2011, that I had the opportunity to discover this ambitious project, sadly blocked at the time for financing considerations. I think it's important to carry it through, and am naturally committed to providing the technical support that the nonprofit needs."

Iyad Hallaq
Les Amis de la Terre-Togo (ADT-Togo) wants to improve the living conditions of the population, with the golden rule to safeguard and remediate the environment with the aim of sustainable development. To do this, the nonprofit wants to arouse a real awareness of environmental issues with the decision makers and the public at large, back environmental conservation and remediation initiatives, supply the villages with drinking water by promoting simple, inexpensive techniques, promote sustainable agriculture with the youth and women, ensure the food safety of the population, initiate microprojects for youth workforce development, and promote decentralized cooperation. Its fields of activity range from biodiversity to fair trade, and include climate change and energy, sustainable agriculture, integrated management of water resources.
Raising a real awareness and...
In southwest Togo, 130 km from the capital, Lomé, in the canton of Fiokpo, a group of 10 villages (population 15,000) suffers from the degradation of its natural resources, the river water having become a source of diseases like dysentery and diarrhea, sometimes fatal. The project to supply drinking water to the rural villages of Fiokpo, led by ADT-Togo, aims to satisfy the drinking water needs of the local population while maintaining the quality of the natural systems that underlie their existence. The first part of the project calls for building infrastructures: a spring tapping unit, a drinking water pipeline, a chlorination station, a storage reservoir and a distribution network with standpipes. The second part is aimed to reinforce the capacity of the population for the sustainable management of the infrastructures and the natural resources.
... backing environmental conservation and remediation initiatives
Construction work on the units has been delayed because of the defection of a financial partner. In 2011, ADT-Togo approached the Veolia Foundation and the Greater Lyon/Veolia Water Solidarity and sustainable management fund for water to complete the project. The foundation agreed and assigned a full-time staffer to redefine the scale of the project and identify the items necessary for its resumption.
Work has resumed. The studies carried out during the missions of the foundation volunteers revealed the need to replace the filtration systems - replacement of the existing settler with a sand filter - and the chlorination units - pumping system to make the installation operational. This means longer deadlines and... a budget extension.
In addition to its financial sponsorship, the foundation continues its technical support alongside the dynamic and enthusiastic team of ADT-Togo.