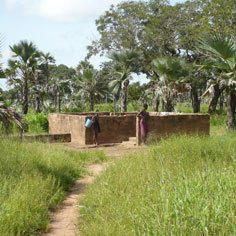 Humanitarian and Development
Place
Wolokonto, Burkina Faso
Sponsor
Bertrand d'Agaro
Grant(s)
25 000 € to the Selection Committee at 2009/06/16
Project leader
APEMC-G-GC
"The project to install the solar water pump extends beyond conventional humanitarian action.In addition to providing a commune with means to procure drinking water, the aim is to make the village population self-sufficient so that it can use and maintain the pump and the network itself.The project fits into a national program, and relies on a simple and robust technology, which is ideal for the conditions of the site.Finally, while the installation meets a real need of the population, the approach also fits into local initiatives and aims at realistic self-management, so that a real synergy is created between Burkina Faso and French skills and expertise."

Bertrand d'Agaro
APEMC G GC, a nonprofit association of professionals and students in civil engineering geotechnical building materials, is an association of students.It maintains relations between the various generations of students of the ESIP (Advanced Engineering School of Poitiers) and promotes the professional integration of the new graduates.During their studies, it also aims to support the initiatives of the students and organize lectures and training courses.Among these overall projects, it has undertaken to construct a small drinking water supply network in the village of Wolokonto, in the southwest of Burkina Faso.
A project conducted with local players
The network consists of a submersible pump placed in an existing borehole, photovoltaic panels and a 20 m3 water tower linked to two standpipes.Technical design was carried out by the students as part of their studies in 2007. They then also took charge of prime contractorship in a spirit of close cooperation with the local authorities and Burkina Faso players.For example, they asked ADAE (Association for the Development of Water Supply Systems) to carry out the socioeconomic study in the village and to train the management committee responsible for operating the network.By the same token, two Burkina Faso companies supplied the equipment required for the project. To make the project succeed, APEM G GC relied on the support of many partners, including the Veolia Foundation.