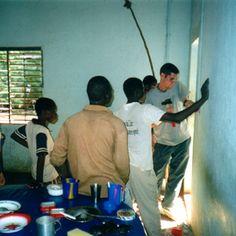 Humanitarian and Development
Place
Baskouré, Burkina Faso
Sponsor
Christophe Régorsek
Grant(s)
12,000 € to the Selection Committee at 2006/01/31

  Project leader Electriciens solidaires
"Marcel-Callo High School in Redon is a model establishment, in terms of its partnership agreements with the industrial sector and its sustainable development projects. It signed the Karta Agreement with the Brittany Region to finance innovative teaching programs in four areas: health and quality of life, sustainable development, young people's openness onto the world, and awareness of artistic and scientific culture."

Christophe Régorsek
Land-locked in the Sahel without any natural energy resources of its own, Burkina Faso experiences the same difficulties as most of the countries in the region: a rural economy subject to frequent droughts, access to drinking water that is very hypothetical for many villages, insufficient income to maintain the infrastructure that would aid its economic growth. Among the areas in which it requests development aid from friendly countries, education is the main priority. With a population of 13.5 million and a literacy rate of between 12 and 25% of the population (depending on the source), the task is enormous. As a result, numerous partnerships are being put into place between North and South schools, with the support of municipalities in both regions.
Comprehensive education
Among these initiatives, the vocational diploma course offered at Marcel-Callo High School in Redon has developed a project to install a mini-solar power plant at Saint-Augustin High School in Baskour, 170 kilometers from Ouagadougou. Thanks to the reliable electricity generated from this source, the students will at last be able to use their computer room. Renowned in Brittany for its dynamic approach to innovative teaching, Marcel-Callo High School has opted to involve ten students from an Electro-technical vocational course and from the senior two years of an Electro-technical diploma course. With the support of two of their teachers, the young people will work for several weeks on building the power plant at their high school. Then they will travel onsite to install it, and train the users and the person in charge of its maintenance. The Veolia foundation has a decided to participate in this project by donating 12,000 euros towards financing the necessary equipment.