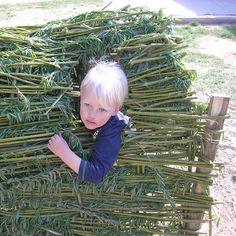 Environment and Biodiversity
Place
Bahren, Saxony, Germany
Sponsor
Wolfram Scholl
Grant(s)
25,000 € to the Selection Committee at 2007/04/03

  Project leader Kinder-Lehm-Haus
«  The association is doing a fine job: the children who attend the kindergarten are the best witnesses. There will be another seven of them this year. Their parents are highly active in the association. The Kinder-Lehm-Haus project consolidates the roots of the inhabitants in their town and their determination to lend a hand while familiarizing them with environmental conservation. The first kindergarten of Grimma is a success »

Wolfram Scholl
Since it was founded in 2002, the association Kinder-Lehm-Haus has hardly been idle. Just 30km from Leipzig, it has created a very special kind of kindergarten: a model of energy efficiency, the premises welcome young German children to familiarize them with the environment. Organic food, healthy way of life, discovery of the natural heritage, the educators and parents pool their efforts to make the facility a haven of ecology. Two years after inaugurating the kindergarten, the association wants to repeat the experiment at a new location.
Ecological efficiency as a prerequisite
The commune of Bahren, partner in the project, has offered the association a building to host a second kindergarten. For many months, concerned parents have devoted hours of their time to refurbish the premises. Besides replacing the doors and windows, this means insulating each room, installing a new heating system and renovating the floors. Outdoors, ecological efficiency demands building a water tank, a treatment station, and equipment for the open spaces: a knoll, planting trees and hedges, an orchard, etc. The Veolia foundation grant of 25 000 euros is financing the installation of the outdoor components. Once the facility is operational, the association will have two kindergartens. The new generation is going to be ecological or else...