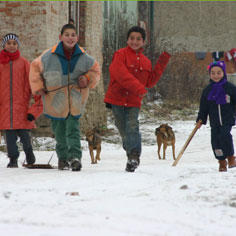 Social and Employment
Project leader
Institut des minorités à Lomnicka
Place
Lomnicka (North-Eastern Slovakia), Slovakia
Sponsor
Jozef Legény
Grant(s)
35 000 € to the Selection Committee at 2007/07/03
"From 2003 to 2005, because of our responsibilities in the Slovak Ministry of Construction and Regional Development, I was one of the persons involved in preparing the country to join the European Union. The negotiations were lagging due particularly to problems connected with the Gypsy issue. Experience has shown that integrated projects, designed for the long term and combining several forms of social action, were the most capable of contributing to the sustainable development of this community. In the Lomnicka region, the gypsies have suffered most from 20 years of recession of the local economy. Having lost the gains made by several generations, they have seen their living conditions reduced to the level of the late 19th century. This minority institute project, run by the municipality, encouraged by the government and perfectly consistent with the European strategy to support the Gypsy community, could become a model of the action to be taken to leave precariousness behind."
Jozef Legény
What is an effective way to battle the marginalization affecting the Gypsy minority in many countries recently integrated with the European Union? The extreme precariousness suffered by most of the 1500 gypsies of the village of Lomnicka, in north-eastern Slovakia, clearly illustrates the urgency of this issue in certain areas. Nearly three families out of four live there under the poverty threshold, the unemployment rate is as high as 95%, municipal water, sanitation and energy services are non-existent and the future appears to be just as dark for the young, who are discouraged to pursue their studies after the age of 16 because the village is at least 15 km distant from any higher education institution. The answer provided to this critical situation today is based on a joint mobilization of the local authorities, the Slovak Government and European bodies. The creation of an institute for minorities in the heart of Lomnicka will in fact help to deal comprehensively with the various aspects of the problem, health, education, cultural and socio-professional.
Making the Gypsy Community Benefit from a New Local Dynamic
Communal laundry and showers open to all, career guidance, scholastic support, grants, aid in vocational integration, games and cultural events: the combination of all these services, managed on an associative level, in a single place, reflects the determination of the Municipality of Lomnicka to associate the Gypsy community primarily in a dynamic of economic and social revitalization initiated since 2006. Through the Feder and the FSE, the European Union should be providing 90% of the 500 000 euros needed to implement this exemplary project. The Veolia foundation is acting here as a relay for the brand new Dalkia Foundation. The latter, created in Slovakia in late 2006 after the incentives provided by the authorities to encourage private contributions to outreach initiatives, will have its own budget as of 2009. It will be in charge of managing the funds supplied by the Veolia foundation, intended to connect the institute for minorities with the various utilities (water, gas, electricity). The skills of the local staff of Dalkia will also be exploited to support the project managers, particularly in the launch phase.