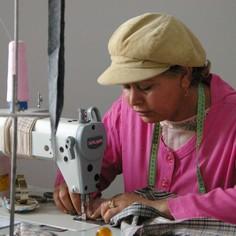 Social and Employment
Place
Tunis, Tunisia
Sponsor
Thomas Lecoq
Grant(s)
10 000 € to the Selection Committee at 2010/01/26
Project leader
Since 1998, BATIK International has designed and implemented international projects in the field of employment, vocational training and the creation of activities to promote the social and professional integration of persons on the sidelines - especially women.
As part of a FEM project (Femmes Entrepreneuses en Méditerranée), alongside Mediterranean partner NGOs, the association is developing training and consultancy activities aimed at women who receive micro-credits to develop their businesses.
Setting up a cooperative, which is a viable answer to the problem of outlets, is logically part of the project funded by the European Commission for the training and accompaniment of the women in the development of their micro-business, as in a North-South partnership approach. The program carried out by BATIK International and the partner NGOs enables them to find outlets, in close association with textile professionals ector in France.
The aim of the cooperative is to provide work for eight seamstresses, including a shop leader and a manageress, and to obtain the fair trade label. It will also give these women a profession, while encouraging them to become genuine economic players.
Connecting the cooperative with French and European fashion creators
The project logically primarily highlights the issue of outlets. It addresses the identification of a "niche" market favoring the development of ethical business relations, by enlisting the small French fashion creators who want to guarantee fair production conditions to their clientele, for the production of their collections, and by opening up to European creators.
The Veolia Foundation has been approached to participate in purchasing the professional equipment and supplies required for the activities of the seamstresses: flat bed seamers, sergers, buttonhole machines, ironing stations, cutting tables, etc. The sponsor, an employee of Veolia Propreté, will support the implementation of the project by placing his managerial skills at the service of the Project Supervisory Committee.