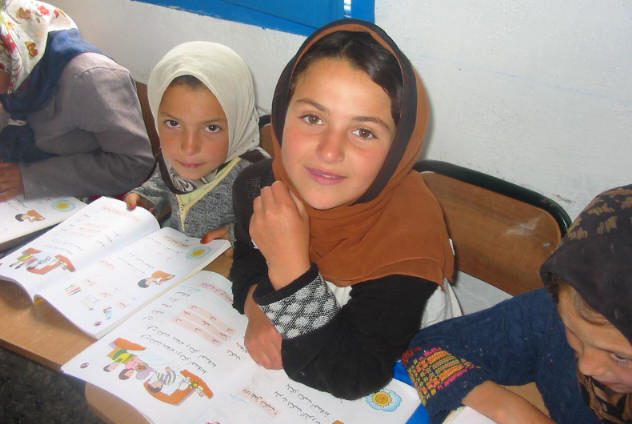 Humanitarian and Development
Place
Morocco
Sponsor
Olivier Gilbert
Grant
€82,000 to the Selection Committee at 2005/02/08
Project leader
Zakoura
« Mr Ayouch is a real powerhouse in the area of solidarity in Morocco. We work together on the ground to get practical lessons through on water, electricity and waste management. »
Olivier Gilbert
How can you fight against fundamentalism and certain beliefs form another age when your audience is barely literate? How can you promote human rights, tolerance, solidarity, equality between the sexes or the fight against corruption otherwise than through books? With television. But not just any television.
Programmes in Arab dialect
The Zakoura Foundation, specialized in granting microcredits and in literacy projects in Morocco, has created its audiovisual department, Moufada. Its goal is to produce films promoting awareness in education, civics, the environment, law and health.
The short films are intended for circulation to the 250 000 beneficiaries of the Zakoura Foundation. Its founder, Noureddine Ayouch, has installed a television set and a VHS player at each of the 594 centers of the Foundation, thereby offering all interested visitors a source of information. These films, in the form of VHS cassettes, are also released to other associations working in the areas of the defense of human rights and sustainable development.
All the films produced are shot in the Arabic dialect that all Moroccans speak. They give the population a voice and open up to other cultures, religions and civilisations.
They are designed to reflect the everyday reality of the Moroccans, while educating, informing and entertaining them too. Several leading figures — a former minister of national education, writers, historians, businessmen, etc. — are associated with the project. Along with the Mohamed V Association and the European Union, the Veolia Foundation has participated in the project with a grant of €82,000.
Proximity television programs
The programs, which attempt to reflect closely the daily concerns of Moroccans, address a variety of topics.
"Health first aid" attempts to demonstrate the first aid exercises required on injured or sick persons while awaiting medical care.
"Success" draws a picture of micro-entrepreneurs who owe their success to the spirit of initiative, hard work, perseverance and integrity. They relate the beginnings of their projects, the problems they encountered, and the material and moral benefits they drew from their success.
"Proverb" presents proverbs from Moroccan popular culture, which have a moral reach emphasizing honesty, work, solidarity, etc.
"Administrative procedures" talks about the formalities required to obtain select miscellaneous official documents, like a national identity card or a passport.
"Cuisine" offers simple, inexpensive recipes.
"Moroccan cities" offers a discovery of Morocco through reportages dedicated to cities.
"Tricks of the trade" provides practical hints designed to make daily life easier.