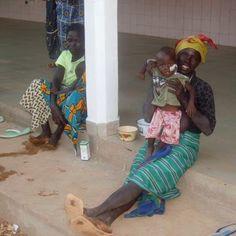 Humanitarian and Development
Place
Barsalogho, Burkina Faso
Sponsor
Jean-Michel Thévenon
Grant(s)
15 000 € to the Selection Committee at 2007/10/02
Project leader
Ouaga
"After having built the Caroline school in Korsimoro, which is operational today, the Ouaga Association is entering the fight against infant malnutrition. It thereby intends to support the efforts of an ecumenical religious congregation based in a region of Burkina Faso that is too often struck by poor harvests, due to the erratic rainfall. Added to the repeated challenge of building supervision is that of cash flow and budget issues: the autonomy of the center must be guaranteed by the income from its pharmacy. This management mode, now fully operational in the Pissila school, will also be applied at Barsalogho."

Jean-Michel Thévenon
At Barsalogho in Burkina Faso, nearly 16 000 children are less than five years old. This poses a real challenge in terms of education and health. In 2004, the Ouaga association, created by the students of the HEC business school near Paris, has taken charge of the construction of a school in Pissila. Two years later, it was the turn of Korsimoro to see its school enlarged, thanks in particular to a first grant from the Veolia Foundation. Finally, in 2007, the association is launching the construction of an education and nutritional convalescence center (Cren).
Construction of buildings and medical equipment
In the North Center of Burkina Faso, nutrition is in fact a major problem: for example, weight deficiencies too often affect the infants of Barsalogho, and the only medical center of the region has to meet the needs of 130 000 inhabitants ... an all but superhuman task. It is in response to these difficulties that the Cren has become an indispensable factor in the fight against malnutrition and infant diseases.
This future center will not only have a general medicine facility, but also a kitchen and a training room. Other investments will be used to purchase medical equipment and build lavatories and a number of annex buildings. Once it is opened, its financial independence will be guaranteed by the sale of generic medicines. This type of permanent auxiliary health center is necessary in areas as enclaved as Barsalogho. This is why Monsignor Thomas Kaboré, the bishop of Kaya and well known to the French embassy, has agreed to manage it with the local mission of the Franciscan nuns.