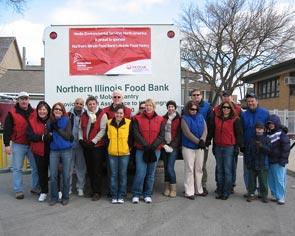 Social and Employment
Place
Chicago suburbs, United States
Sponsor
Denisse Ike
Grant(s)
33 000 € to the Selection Committee at 2007/04/03

  Project leader Northern Illinois Food Bank
"The opportunity to directly impact the communities in our area piqued my interest."

Denisse Ike
Deeply affected by the long industrial decline of the northern United States, Chicago and its suburban satellites are the home of many families completely lacking in all resources. By itself, the State of Illinois has more than 275 000 persons living below the poverty threshold, which, in the United States, means less than 20 650 dollars per year for a family of four persons. To try to improve their living conditions, many associations supply their basic needs: something to eat.
The North Illinois Food Bank (NIFB) is one of them. This NGO, created in the 1980s, is an affiliate of America's Second Harvest, a federation of organizations which combat hunger and malnutrition.
The employees lend a hand
Every year, this food bank distributes more than 12 000 tons of food to disadvantaged persons, in one of the 520 distribution facilities that it manages in thirteen different districts. To do this, it has a fleet of eleven semi-trailers each making 900 food collections per month. However, they are not equipped for refrigeration. Besides, they have to be driven by professionals holding specific licenses.
The NIFB therefore turned to Veolia  to help it acquire small refrigerated trucks accessible to all drivers, which could help it collect fresh produce. Due to the scale of its action, the NIFB is in fact contacted daily by restaurants, stores and producers, offering it their unsold perishable foods. The Group responded in two ways: the Veolia foundation decided to make a financial grant, and some employees agreed to participate in the collection rounds, undeniable evidence of their attachment to this cause.