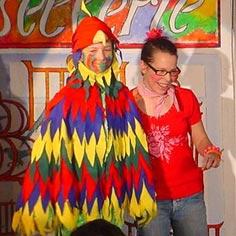 Social and Employment
Place
Ile-de-France., France
Sponsor
Julie Colin
Grant(s)
15.000 € to the Selection Committee at 2006/05/23

  Project leader Les Tréteaux Blancs
«  Thanks to a complete show, with sets, a quality sound system, fantastic lighting and actors in amazing costumes, the hospitalized children enjoy a welcome escape from their usual setting. It's a huge breath of fresh air for them and an extraordinary opportunity for exchanges. .  »

Julie Colin
It's the story of a parrot and a grain of dust… the new 2006 show of the theater company Les Tréteaux Blancs has all the ingredients to arouse the interest of the children: magic, mystery, dream and humor. And this is precisely what these spectators terribly lack: Les Tréteaux Blancs is in fact a theater school composed of some 30 adolescents who act out original plays for the hospitalized children.
Throughout the school year, the troupe of Tréteaux Blancs works every Wednesday afternoon in various workshops: stage, choreography, music, make-up, lights, costumes, decors, etc. It rehearses and stages texts specially written for it by professionals. Then in May, June, July and December, it performs before the young patients (handicapped or suffering from serious ailments) of the pediatric wards of the hospitals of Ile-de-France and the provinces. In 16 years of existence, it has performed on stage in 50 institutions, with 250 shows before about 15 000 children.
After the show, mixing and sharing
In 2006, "The Parrot and the Grain of Dust" was performed in some twenty pediatric centers of Ile-de-France and the Poitou region. After each performance, the young spectators are invited to participate in the show, and then converse with the actors over a snack.
To help this young troupe to replenish the equipment that it has used from the outset and which has become obsolete after 16 years of good and faithful services, Les Tréteaux Blancs has called on the generosity of partner companies. The 15 000 euros granted by Veolia foundation will enable it to acquire new stage equipment: sound and light systems, decors, seamstress and traditional stitcher for costumes. Who would have imagined a parrot in flamboyant plumage!