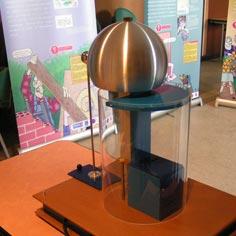 Environment and Biodiversity
Place
Graçay, Cher, France
Sponsor
Éric Pouget
Grant(s)
10,000 € to the Selection Committee at 2006/05/23
  Project leader FOL (Fédération d'Oeuvres Laïques) du Cher
«  This instructive project ties in perfectly with our energy efficiency objectives: limit energy consumption, develop alternative solutions and awareness of the risks of greenhouse gases  »

Éric Pouge
Here all is peace and harmony between human activity and nature: in Graçay, two large brick and metal buildings span the Cher River. Interconnected by a metal footbridge, they belonged back at the start of the 19th century to an industrial flourmill, which had already been rebuilt on the remains of a mill dating from the 18th century.
For all audiences
Fully refurbished after lying idle for several decades, these large mills will now serve as the focal point for a major issue: controlling our energy future.
Thanks to the commitment of the FOL* and the Centre-Sciences Association devoted to energy-related matters, the Centre des grands moulins now welcomes groups of primary and high schoolchildren, and adults for educational courses that last from 1 to 5 days. Renamed the "Maison des énergies de Graçay" or Graçay Energy Houses, they include a scientific activity center (work and experiment rooms and a multimedia center), an original exhibition, bedrooms for 1 to 4 persons with a maximum capacity of 58, and a canteen. In addition to the scientific activities, visitors can make models, go for walks or on cycle tours.
Children (11 to 16 year olds), adults specialized in running environmental programs or simply wanting to optimize their energy consumption, the disadvantaged, handicapped or people suffering an illness… everyone is welcome to come discover the current answers to energy issues. By allowing everyone, whatever their level of knowledge, to understand what energy is used for, to learn how to control our energy consumption and the various sources of renewable energy currently available to us, the Maison des énergies is seeking to educate as many people as possible in these issues that are so important for the planet's future.
By contributing 10,000 euros to the Cher FOL, the Veolia foundation is adding its grist to the mill in support of the Maison des énergies: it will be used to help finance the permanent didactic exhibition.
* FOL : Federation of Lay Works.