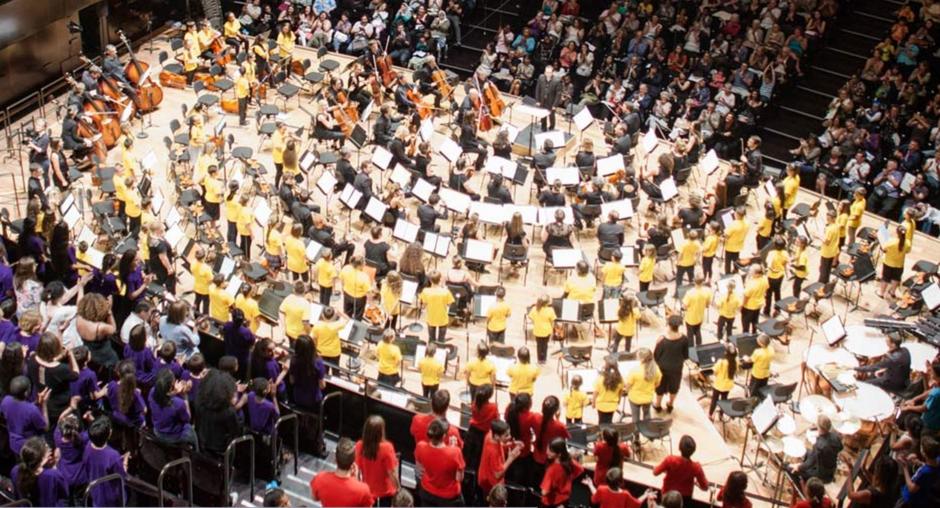 Social and Employment
Place
Paris Region (France)
Sponsor
Jean-Marie Lambert
Grant
€150,000 (€50,000 yearly for three years) by the 26/01/2016 Board of Directors
Project Leader
Since it opened in January 2015, the Philharmonie de Paris has been pursuing the objective of providing a powerful response to meet major societal challenges, especially those relating to cultural democratisation. In keeping with that perspective, it has taken up the initiative of its entities (the Cité de la Musique*) to extend and expand it. Ever since it was founded twenty years ago, the public institution has been intent on favouring a collective approach and oral transmission for its musical workshops. Conducted over the long term with small groups in partnership with social structures, its projects have demonstrated that this model and method could be used on a wider scale.
 
The DEMOS project stems from that ambition, as a means to provide access to music for children aged 7 to 14 who live in neighbourhoods that come under the "Urban Policies" purview, or in rural areas that are distant from the workshop venues.
 
Suitable, motivational education
DEMOS is founded on a long-term approach to music. Participants get four hours a week in the workshop, above and beyond their school time, plus internships lasting a few days during the school holidays. Overall, every child experiences 150 hours of music in the year, which is intensive enough to foster impregnation and immersion.
 
Once a month, children from a same area perform a full orchestra rehearsal. The aim is twofold: to generate an emotion specific to the symphonic work, and on an educational level, to give meaning to the work that has been achieved in small groups. Those rehearsals are a preamble to a public display of what has been learnt, delivered in the shape of a performance given inside the prestige setting of the Philharmonie de Paris.
 
A successfully tried and tested scheme
Designed on the basis of three-year phases and initiated in 2010, the scheme initially involved 450 children mostly from Paris, Seine-Saint-Denis and Hauts-de-Seine, and then 800 children of whom half came from Isère and Aisne. The first two cycles (2010-2013, 2012-2015) have led us to validate the initial approach and to start developing the scheme further.
 
The annual cost of an orchestra is €260,000. The budget is funded by the Government, local authorities and support from the Foundation, which is co-funding a new children's orchestra at Plaine Commune. This should encourage personal growth among the young while triggering an innovative kind of territorial momentum.
---
* Inaugurated in 1995, the Cité de la Musique is one of two buildings that make up the Philharmonie de Paris, a name that brings together a number of musical activities.