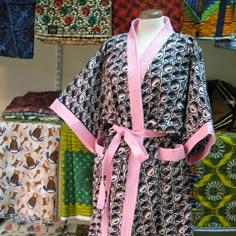 Social and Employment
Place
Saint-Denis, France
Sponsor
Fatima Ait Kaci
Grant(s)
16,000 € to the Selection Committee at 2004/11/30
Project leader
La main fine
« What's particularly laudable is that this structure takes a sensitive approach to fighting social exclusion. These HIV-positive women are part of a workforce and the confidentiality of their health status and personal situations is fully respected. There is no room for misplaced compassion or pity. »

Fatima Ait Kaci
In a dressmaking workshop at Saint-Denis near Paris, nimble fingers are busily turning up hems, making tailored dresses or producing pouches, bags and tunics, etc. The dressmakers of the La Main Fine association are all HIV-positive and often living in challenging circumstances. By means of close monitoring, they are helped to find a way back into the workplace and society in general.
Their items, produced in small batches, are displayed and sold in the adjoining store or at social and cultural events. La Main Fine knows how to listen, support and motivate these individuals and benefits from the experience of the Ikambere organisation (of which it is an offshoot) dedicated to supporting HIV-infected women.
Diversify and increase production
The La Main Fine team has grown since July 2003. A design specialist and three technical staff train six women in the basics of material cutting and dressmaking. They also teach them the specialised vocabulary of the rag trade. La Main Fine has set itself the goal of creating new social integration jobs and developing its activities. To this end, the store reception area needs to be upgraded and an industrial embroidery machine will be required together with a vehicle for transporting their products for sale on stands.
The Veolia foundation has granted the association 16,000 euros in funding to pay for the embroidery machine. These skilled seamstresses have established a client base in the space of two years and are going from strength to strength.