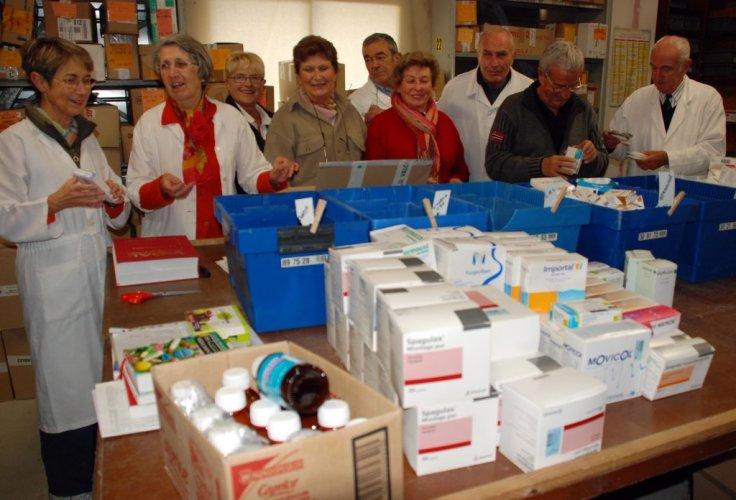 Social and Employment
Place
Sébazac, Aveyron, France
Sponsor
Jean-Michel Guillot
Grant(s)
8,000 € to the Selection Committee at 2005/10/04
Project leader
Pharmacie Humanitaire Internationale Aveyron
"The actions of 'Pharmacie humanitaire international' in Aveyron are a fine example of solidarity with poor countries and sustainable development for all."

Jean-Michel Guillot
The French dispose of 23 million tonnes of waste every year. Among them: 70,000 tonnes of "old" medication - cardboard or plastic packaging, glass phials, capsules, pills, powders, syrups etc. Some can still be used while others cannot.
Determined to combat waste as well as the health risks of mixing out-of-date chemical products with household waste, the "nationale Pharmacie humanitaire internationale" association (PHI), formerly "Pharmacie sans frontière", has a dual remit : to provide humanitarian aid to developing countries while preventing accidents related to medication.
Refurbishing the premises
Since 2001, volunteers from the Aveyron branch of the association have been overseeing the selection, storage, preparation and shipment of medication and medical equipment in premises made available at the Sébazac waste disposal site managed by Onyx. By way of example, in 2004, the Aveyron branch of PHI collected 95 tonnes of medication which were subsequently pre-sorted in the region's pharmacies: 87 tonnes were incinerated while 8 tonnes were shipped to seventeen developing countries via various aid organisations.
However, since it has to renovate the entire site to meet new safety standards, Onyx had to demolish and rebuild the association's premises. Although the cost of major building work was covered by the company, the association still has to pay for fitting out the new premises. To contribute to funding of structures, partitions, false ceilings, carpentry and electrical circuits, the Veolia Foundation has provided funding of 8,000 euros so that PHI can continue its operations in the Aveyron.