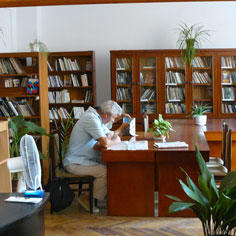 Social and Employment
Place
Varna, Bulgaria
Sponsor
Ivanka Goranova
Grant(s)
30,000 € to the Selection Committee at 2007/12/04
Project leader
Adecaes
"The future room equipped with 15 computer workstations will help to develop the aptitudes and skills of the gypsy inhabitants of the region. Thanks to these facilities, vocational training will be developed and the street children will be able to enjoy the benefit of educational activities."

Ivanka Goranova
Between 1948 and the fall of the communist regime, the associative movement was purely and simply banned in Bulgaria. The first to suffer from this interdiction and the lack of outreach initiatives were obviously the most destitute population, among them, the Gypsies.
Shortly after the collapse of the Soviet bloc, the association Adecaes (Association pour le développement des échanges culturels, artistiques, éducatifs et scientifiques France - Bulgarie) was formed in 1993. Since then, it has attempted to fill the gaps left in the "social fabric": the Gypsies are still largely on the sidelines, with a life expectancy shorter than the Bulgarian national average.
Vocational integration and medico-social observation
In Varna, Bulgaria's second biggest city, in the popular neighborhood of Asparuhovo, where Turks and Ukrainians also live, Adecaes had the idea of building a training and cultural centre open to the 30,000 inhabitants of the neighborhood - whether Gypsies or not, youths and adults. Modeled on the popular universities, this centre, inaugurated on November 1, 2007, pursues two objectives: the training, vocational integration and medico social observation of the Gypsies, and the setting up of initiatives for meetings and exchanges open to all the population.
The courses offered in the vocational training program range from learning a language (Japanese is extremely popular) to management courses, including initiation into information processing and communication technologies. The priority targets, single mothers and unemployed, benefit from health advice, school support and aid in integration. Yet the "street children" and elderly and retired persons can also participate in the various teaching activities.
On the request of Adecaes, the Veolia Foundation decided to encourage this initiative by helping the association to renovate one of the training rooms and to equip it with office automation equipment. Throughout Bulgaria, the experiment conducted at Asparuhovo is singled out as exemplary: this centre, where the most destitute population can find advice, services and genuine training at the same time, is in fact raising fervent hopes to eradicate the process of exclusion and impoverishment in which so many Gypsies are trapped.
To start with, 60 persons will regularly take the courses, but very soon, due to the growth of the neighborhood, this number is bound to grow.