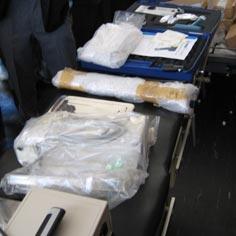 Social and Employment
Place
Antananarivo, Madagascar
Sponsor
Raymond-Max Aubert
Grant(s)
40,000 € to the Selection Committee at 2006/03/28
  Project leader ADS (Association développement et solidarité)
In Madagascar, a shortage of competent doctors is not the problem; it's the lack of equipment. The government has been unable to subsidize hospitals for many years.
Doctor Delaitre's project involves equipping two of the islands main hospitals, both located in the capital Antananarivo.
No intensive care equipment
Befelatanana Hospital is the main national center in Madagascar. More than 400 people work there day and night: 160 medical technicians, 4 associate professors, 25 specialists, 45 GPs, 94 paramedics. But its technical unit does not comply with standards and, irrespective of the human resources at its disposal, the hospital is unable to provide quality care. The small emergency service only has five beds. The hospital has no intensive care equipment and patients requiring monitoring cannot be received by the hospital on several days. As a result, the mortality rate is still high despite the best efforts by the medical staff. The hospital wants to set up an intensive care unit, which is cruelly lacking at present, and improve its equipment.
Soavinandriana Hospital is a hundred years old, and is the oldest on the island. In 1990, it set up an orthopedic and trauma department. Today, it has 57 beds. The department provides round-the-clock emergency service, and 35% of the hospital's surgery cases are admitted through this department. But here again, the equipment is rudimentary and insufficient.
The French consul has made personal enquiries about the lack of even the minimum medical equipment in these two hospitals. It was for this reason that he made an emergency plea for assistance to ADS, which then turned to the Veolia foundation. The 40,000-euro grant will be used to finance the acquisition of two ultrasound scanners that will help Madagascan doctors make more precise diagnoses.