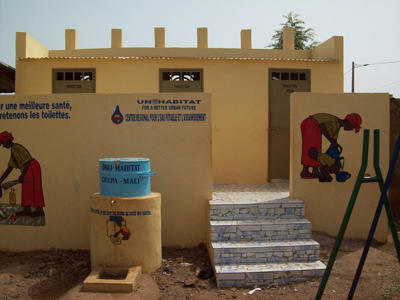 Humanitarian and Development
Place
Mali
Sponsor
Thierry Vandevelde
Grant(s)
€ 30,000 to the Selection Committee at 2014/05/23
Project leader
The International Secretariat for Water (ISW) created in 1990 in connection with Decade for Drinking Water and Sanitation, is an international nongovernmental organization. It promotes access to drinking water, hygiene and sanitation by supporting the capacity of the populations to select solutions adapted to each context. To do this, the ISW wants to foster local governance that gathers together users, elected officials, technicians and financiers. The ISW participates in international consultations and working groups on the monitoring tools (UN-Water, Global Analysis and Assessment of Sanitation and Drinking Water (GLAAS) WHO/UNICEF Joint Monitoring Programme (JMP) for Water Supply and Sanitation) and follows the work of the OECD and the EEC (UNECE WATER convention).
The Blue Books were created by the International Secretariat for Water to initiate dialogs between the many local players and to support advocacy efforts in favor of access to water and sanitation. The aim is to produce a document with the partners of the drinking water and sanitation sector in a specific region of the country in order to gauge the achievement of the Millennium Goals for Water and Sanitation. These Blue Books set forth a qualitative analysis that makes them genuine decision aid tools for the local players in water and sanitation, and the international partners, technical and financial.
Taking account of the new problems of Mali
In 2014-2015, the ISW wants to accompany the dynamics around the existing Blue Books (Bénin, Sénégal, Niger, Burkina Faso and Mali) and to reprint those of Niger and Mali.
The Veolia Foundation, approving the positive approach of the ISW, which consists in the long-term monitoring of the existing Blue Books, has decided to support the reprinting of the Mali Blue Book. The foundation is deeply committed to improving the urban hygiene of Mali. The new problems associated with political events, which have caused the influx of refugees to the cities, demand an in-depth consideration of access to water and waste management, with all the stakeholders involved. The implementation of a "Blue Book" approach targeting objectivity and consensus should enable the local players to deal comprehensively with the challenges of the water sector in Mali, to identify the solutions adapted to the requirements and the users.
The results of the Blue Books will be presented to the 7th World Forum on Water, to be held in South Korea in April 2015 in connection with specific sessions on Africa.