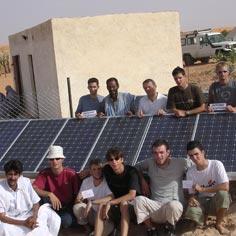 Humanitarian and Development
Project leader
Les Jardins d'Espoir
Place
Tawfick, Mauritania
Sponsor
James Tangoureau
Grant
10,000 € (total budget: 26,900 €) to the Selection Committee at 2004/05/26
« If, by a stroke of luck, the project comes in under budget, there is no shortage of projects and requirements: a second wellhole, dispensary, waste water system, etc. »

James Tangoureau
Tawfik is a Mauritian village of former nomads who have settled down near a water source following a drought in the region which has lasted over 30 years. In 2003, the Angers-based association, "Les jardins d'Espoir", intervened for the first time by helping the village to create a small market garden through funding of fencing and a drip irrigation system. However, a problem remains in the shape of preservation of produce and other foodstuffs (meat, fish, etc.) In 2004, the association returned to Tawfik as part of a project to install a small refrigeration unit comprising two freezers and a refrigerator. This equipment is being provided to a local co-operative where it will be supervised by the women of the village who run the market garden.
A simple, sturdy and easily maintained system
In the absence of electricity, the refrigeration unit has to be powered by solar collectors. The feasibility of the project, funded by the Veolia foundation to the tune of 10 000 euros, is overseen by the technical teaching staff at the La Baronnerie technical college in Angers. The construction, assembly and installation work is carried out by the students as part of their preparations for the end-of-year electrotechnical BTS examination. Finally, the equipment is mostly provided by the company, Cesbron Froid Commercial. Fifteen photovoltaic panels, a battery unit, and a power supply. This efficient system must above all be simple, sturdy and easy to maintain. Although the sun is no stranger to this region, the persistent mist means a small emergency generator also has to be installed.
Useful facilities needing insulation
One year after its installation, the Tawfik refrigeration unit is a component of village life and performs its mission daily: to preserve meat, to distribute it every morning while avoiding the risk of infection due to the extreme heat, and to cool the water which the villagers increasingly want "ice cold". These operations are so intensive that Les Jardins de l'Espoir and the La Baronnerie School have been forced to undertake the insulation of the freezing room, in order to avoid draining the electric batteries. Besides, due to the improved living conditions obtained thanks to solar energy, Les Jardins de l'Espoir have turned to another association working in the region, Les Nomades de Mauritanie, to provide Tawfik with solar ovens: cookstoves for cooking the foods without using firewood or any other energy source. At Tawfik, the locals have now understood that the sun, if properly controlled, provides invaluable aid for improving their standard of living.