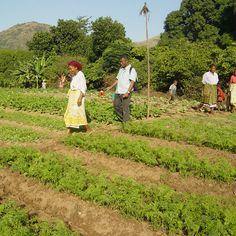 Humanitarian and Development
Project leader
Place
Région d'Anosy, Madagascar
Sponsor
Thierry Witckowitz
Grant(s)
40,000 € to the Selection Committee at 2006/12/05
"One advantage of the project is its location, as it is aimed at a rural region. These projects are rare and deserve support: for the last 20 years, the exodus to the large towns hasn't yielded a single positive result."
Thierry Witkowicz
In Madagascar, where about 70 % of the 17 million inhabitants live below the poverty threshold, the NGOs primarily strive to set up favorable conditions to guarantee the food security of the population. In the southeast of Grande Île, CARE is developing the "Tambiroa" project to accompany the farmers of the 18 communes of the Anosy region. Relatively enclaved from the rest of the country, this zone suffers from several handicaps: low agricultural output connected (inter alia) with traditional farming methods inappropriate to the current context of demographic growth, little access to seeds, fertilizers and farm machinery, no possibility of storing harvests, etc.
A granary for storing seeds and produce
By promoting the development of food and growth crops, CARE therefore aims to increase the farm outputs of more than 18 000 households. This goal entails training the peasants in new agricultural techniques, organizing the seed production system by encouraging the farmers to pool their resources, and backing the installation of produce marketing systems. Ultimately, Care wants to improve the living conditions of 127 500 persons.
The aid provided by fondation Veolia will help buy a good share of the equipment and seeds that are lacking for the time being, but it will also be used to build a community granary. Sheltered from climatic hazards and parasites, the foodstuffs (rice, beans, manioc, corn) and seeds will be stored there, thereby guaranteeing the food security of the entire community.